October 2012 - RON KALIMON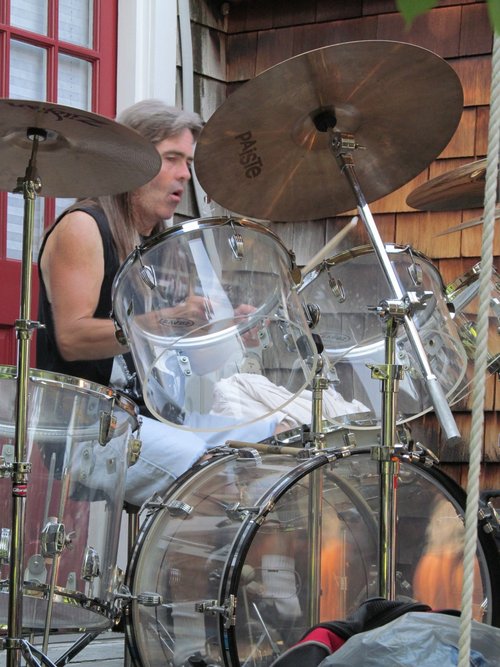 If you know a little about Maryland's heavy bands, you may also be aware that Ron Kalimon is one of the veterans of that legendary scene. Since the late 1970's, he has made history with bands such as ASYLUM, UNORTHODOX and Internal Void, to name just a few. This is mainly due to his unique and distinctive style of drumming, which he refined over the last 35 years. If you look closer at his personal timeline you notice immediately that Ron Kalimon has spent a lot of time with ASYLUM, who changed their name to UNORTHODOX in the very early 1990's after being signed to Hellhound Records. The result of this contract were two timeless masterpieces, namely 'Asylum' and 'Balance Of Power'. No need to say that Ron Kalimon is definitely one of the reasons why I love this albums so much. But this is not only an interview with Ron about his time with ASYLUM and UNORTHODOX, because I already did one with him and Dale Flood in 2009 (you'll find it here).
This time, I wanted to know more about his other activities, starting with the past until today. This is tied up with his personal retrospection onto his work, which allows us an in-depth view into the history of heavy music in Maryland. But there is also room for the present, and that looks pretty good because Ron has joined heavy progressive rock outfit CHOWDER. Moreover he continues to work on his other band THE WELL according to the motto "a rolling stone gathers no moss". So we had plenty to talk about, which led to a detailed and long conversation between Ron and myself.
Hey Ron, it is my great pleasure to do another interview with you. Our last virtual talk dates back three years and it's high time for an update. So, I've noticed that you have started a new band called THE WELL. Please, tell me more about it.
Hello Klaus! It is good to hear from you once again. I'd like to say thank you and to everyone in Germany who I came in contact with in 1993 when Unorthodox made their visit. Everyone was very cordial and I have great memories. The Well got their start when I saw Johnny "Wretched" Koutsioukus at an airing of Heavy Metal Picnic (which I will talk about later). I had not seen him in years and told him I was interested in playing again. He had his own band called Soul at the time so we got together as a side project and he called up Darren Waters for bass. The music is melodic with a hard rock edge. Johnny writes very good songs.
The name "The Well" came from the outside of my basement which was the bottom of a stair well where people would go out to smoke. We did one gig and also played the DVD release for Heavy Metal Picnic in November. I then heard nothing from the other band mates for months until recently. Johnny says he was just going through some life changing stuff and had to take care of things. We have yet to get together again but I am hopeful and it seems there is interest from each member. Here is a YouTube link to some songs we played at the DVD release. We did a half Unorthodox, half The Well set.
Oh yeah, the Unorthodox show at Forum Enger is still fresh in my mind. That was a great show and a great evening! It's good to hear that THE WELL finds it way back to life. The video clips are amazing and feed the appetite for more. Before we continue with THE WELL, I would like to know more about the Heavy Metal Picnic. What's this?
Heavy Metal Picnic is a sort of sequel to the cult film Heavy Metal Parking Lot. For those not even familiar with HMPL it is a short film of just a couple of guys (Jeff Krulik, John Heyn) walking around with a camera outside Capital Centre before a Judas Priest concert in 1986. The people interviewed were goofy, stoned and just partying up before the show. Heavy Metal Picnic premiered in 2010 here in Maryland and aired at events and theaters around the world including the Copenhagen film festival.
It relives a 1985 all weekend field party. Jeff Krulik had heard there was footage of this event and went to work. Metal connoisseur Jim Powell remembered Asylum had played the event and came with Jeff to interview us in 2007. So there is lots of party footage from 1985 and current interviews with all characters involved in the 1985 event including the party hosts, band members, etc. It is a blast! It really focuses on the fun and care free life we were all living at the time. Actually we were partying as we were being interviewed in '07 and got pretty silly by the time it was over. If you google Heavy Metal Picnic you can view a trailer and get more info. There are extras on the disc that include the Asylum set from the event.
Curiosity is awoken just because of the Asylum show and the interview. I need to watch out for this! But let's continue talking about THE WELL. Did you record any demo stuff or do you have any plans to record something in the future?
Just to reiterate, Heavy Metal Picnic is all about the fun and not necessarily about what band played what. It is a must see for nostalgia and old school party times. The Well hasn't rehearsed since December. If one of the guys says "Hey, how about hooking up this week" then it is back on but no one has called to hook up. Johnny did record us one night on some good equipment but no demo. His guitar writing is very good so hopefully something can happen in the future. I have been in touch with good old friend Josh Hart. We have talked about doing some Chowder type material. His band Chowder will be releasing a DVD on I, Voidhanger soon (in the meantime the album has been released - the editor). It is monster crazy! Awesome! His drummer left a while ago and we very well could hook up. I am anxious to play. I have a lot of energy for an old man!
I really hope that THE WELL doesn't go down the tube completely. But it would be excellent if you and Josh would re-activate Chowder. Yes, I know that album. It's called 'Passion Rift'. Josh had send me the rough mixes long time ago, and I'm glad that it will be finally released by I, Voidhanger. But I never heard about a DVD.... Are you sure? By the way, you and Josh were an explosive rhythm section on the second Unorthodox album 'Balance Of Power'. Did you ever play together with him after that period?
I did say I am an old man so unfortunately that means I have the brain of an old man. I meant to say CD not DVD. I hope I did not pump you up too much thinking a DVD was coming! The only time Josh and I played since is when he joined Dale and I on stage to play 'Zombie Dance' at SHOD X. He is a great player and friend. We have kept in touch over the years and he was a main component in getting Asylum to reunite in 2007. Josh sent me an Email tonight and it seems promising that we will do something. As far as The Well maybe it will just require me to make the call to get The Well going again instead of waiting for Johnny or Darren to call.
Good news, Ron! You and Josh are a well-tuned team and a creative force and I think, it will be something good. Let's turn back now the wheel of time - How did you end up playing drums and what musicians have influenced you?
We are turning back the wheel to before there were wheels! I had an older brother who always had The Who, Beatles, Steppenwolf, Deep Purple blasting out of his bedroom. This was early/mid 70's. When I heard all that it was like "fuck yeah!" Rock and Roll was instilled in me at a young age. I bought a guitar, bass and drums in my early teens without really knowing how to play. I learned some stuff (Cream, Beatles, Hendrix) and in high school a classmate told me there were some guys looking for a second guitarist. Honestly if I could play 3 bar chords without messing up it was a good day. After talking a bit I mentioned I played drums also. I had a little more experience in drums. The guy said "They don't even have a drummer yet"! That is when it started.
It seemed at the time there were 10 guys playing guitar for every drummer. That is when I stuck with drums. At Christmas '73 my brother gave me Beatles' 'Revolver' and McCartney's 'Band on the Run'. Those were my first albums so The Beatles are bar none my favorite of all time. I soon bought Alice Cooper, Aerosmith, Purple, Kiss, Zep, Queen. When I met Dale Flood at school in the late 70's he was into Sabbath, Priest. That added another genre of rock to get into. At the same time I was getting into Rush, Yes. Prog type stuff. There are so many influences. On drums, Bonham, Ian Paice, Neil Peart, Simon Phillips. On guitar I love Brian May, Blackmore, Page and probably 20 more. So many musicians over the years have influenced me.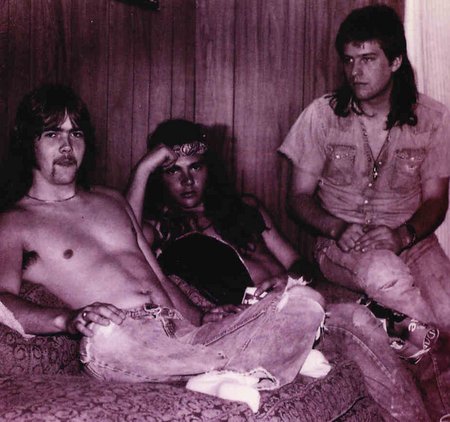 I think a lot of your influences can be picked out clearly in your drumming style. So, when did you form your first real band and did you play in other bands before ASYLUM?
I was in two bands in high school. The first was called Legend. We played the rock of that time, Pink Floyd, The Cars, pretty much the stuff you hear now on the radio that is called classic rock. The next band was called Melange. We played a lot of Yes and Rush. The time period we are talking here is 1979-81. It was in 1981 that Dale coaxed me and Earl Schreyer out of Melange. Asylum was the first band I was in that did high quality recordings and bigger gigs. The other two bands were mainly playing parties. It took us 10 years (in Asylum) to get a record deal.
I guess that was the deal with Hellhound Records.......? How are you memories of the old days with ASYLUM? As far as I remember, you've played a couple of gigs with The Obsessed and Death Row. That must have been a pretty exciting period of time.
Yes, with Hellhound. I imagine those guys must be around doing something today. You look back in time and realize how wonderful those days were but at the time you were just doing what you like doing. We were all care free. Not a worry in the world. Playing (and partying) every night we could. It is hard to pick a favorite gig. In 1985 we played with Trouble and Obsessed in Baltimore. I stood right behind Olie the whole time. Outdoor parties and festivals were a lot of fun (i.e. Heavy Metal Picnic). They were just free for alls. You would have to be careful not to step on the people who were passed out.
I wished you had played with The Obsessed and Trouble in 1985 here in Germany, because then I would have been there. But how come that ASYLUM didn't release anything official in the 1980's? The Obsessed had their own label Invictus Productions. I think that it could've been a good opportunity for you to a release a 7" or something like that...
You know, that is a tough question. We (as Asylum) focused on getting our music tight in practice and then finding places to play locally and display what were really good tunes. We didn't think much on the business side. We also weren't as involved as you would think with the Obsessed. They were right in the same area but it really wasn't like "Hey we are doing this and do you want to record on our label, do this gig with us?" I think we were just focused on the quality of music and that something would eventually happen as far as recordings and releases. Looking back we could have done better but you can't turn back the clock, right?
Yes, indeed. But it was a great idea to release the first ASYLUM demo (review here) via Shadow Kingdom Records. In our last interview you said that you have many ASYLUM demos. Are there any plans to release more of the good old stuff?
It has been discussed quite a bit. We just don't know how we are going to go about it. We did about a demo a year from 1984-1988. I personally would like to re-record a select group and put out an album that way. I think we are much better musicians now compared to then and could make those old tunes sound killer! Somehow one way or another we will put something out but when that is I don't know. Hopefully while we are all still alive.
I would love to hear that re-recorded songs. Which line-up would be the best for that venture? And do you still have contact with Dale Flood?
Dale and Josh would be my choice. 'Balance of Power' is my favorite album of the two discs I played on plus we did the Europe trip with Josh. Dale and I really got reconnected in 2007 when we did an Asylum reunion show (with Earl) and released 'The Earth Is the Insane Asylum of the Universe'. After that we reshaped Unorthodox and brought in Jon Blank (Wino). Mark and Gary had recently left. Jon's unfortunate passing and Dale's relocation to Tennessee to raise a daughter put a halt to the band in 2009 for now. Dale and I have kept in touch. We lost touch there for a bit but yes we talk often.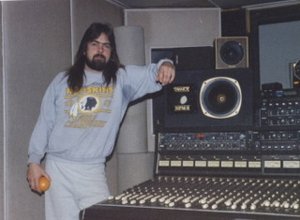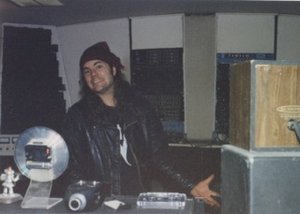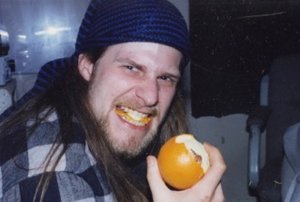 As much as I dig your first album for Hellhound Records, 'Asylum', but I agree with you on 'Balance Of Power', mainly because for the production. Sometimes 'Asylum' sounds a bit thin, but on the other hand it contains one of my favourite UNORTHODOX songs, namely 'Harvest'. I am always deeply touched when I listen to it and I really like the lyrics. Please tell me more that song. Did it originate from the ASYLUM days or did you wrote it for your debut album?
'Harvest' is one of my favorites too. It is a soulful groove. You really can get lost in the dreaminess of it. That was written at that time as were most other songs on the first 2 albums. That is why we have so much unreleased Asylum material. We didn't just put out older songs when we were signed. We were writing new ones. Dale was going through some really deep things during that time and was good at relating those experiences into lyrics.
How is it that you've haven't been in the 'Awaken' line-up? I have absolutely nothing against Gary Isom and I really dig that album, but I have to admit that I missed your unique drumming style. By the way, what do you think about 'Awaken'?
Well, those three had already been together for a while and it was right around the 'Awaken' release that Dale and I had reconnected. Dale and I were out of touch for years so it made sense that those three, after playing together for a while, recorded the album. Would I have liked to play drums on 'Awaken'? Of course. Many of the rhythms on the album Dale and I messed around with over the years. Actually we recorded 'Friend in Need' for the Unorthodox 'Asylum' disc but it was left off the album. I love the song but some thought it was not "heavy" enough I guess. 'Road to Ruin' is an Asylum song from 1988. The version on 'Awaken' sounds as if it is twice as fast. Not the same groove. I believe a lot on the album could sound better. The production is good. I mean just the playing as a whole. There are things on that album that I could see being done a little differently.
How did it come about that you joined Iron Man after the release of 'Asylum'? I still remember very well that I was surprised when I bought 'Black Night' in 1993 and noticed your name on the backcover.
I was very busy in music in the late 80's/early 90's. I seemed to be playing in at least two bands all the time. Rob Levey was an early Asylum fan so we knew each other pretty well. He had told me that their drummer either left or wasn't working out and asked if I had time to be in Iron Man. At the time I had all the energy in the world. I sure wish that were the case now! Anyway, it sounded like a fun thing so I joined. It was a good time. Doing a lot of Sabbath covers along with the original material was great. We had a lot of fun together. You don't get that too often. When things were getting serious for both bands I knew I probably wouldn't have time for both. Since I had pretty much grown up with Dale I stayed with Unorthodox. I loved playing with Iron Man. It wasn't easy to leave.
Soon afterwards, Hellhound Records did release the second Unorthodox album 'Balance Of Power'. Jeff Parsons was replaced by Josh Hart and this time you recorded the album at Hit & Run Studios in Maryland. What led to these changes?
Actually, the changes didn't feel like too much. Jeff really wanted to play guitar so he more or less left. Josh (Revelation) was always a huge Asylum fan and was in the band scene. The change was really smooth. As I try to recall 20 years back, I think that Frank Marchand was not available or was not associated with Oz by the time of the second recording. I had already experienced Hit and Run with Iron Man. Steve Carr was always after a great old school analog sound. It was also much closer than Oz.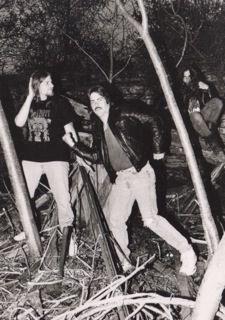 When you look back on the albums where you have been involved, which do you prefer most? For example, what are your thoughts now about Internal Void's marvellous album 'Unearthed'?
You know, things really change over the years. The early demos were fun because you are partying a lot and just playing what you know. Then you get signed to a label and you have to take the recordings a bit more seriously. It was still a party scene while Unorthodox and Iron Man recorded but there really wasn't anyone else in the studio while we recorded. The partying was left for the live shows. The Void days were more laid back, relaxed. We were all friends. I guess what I'm saying is that it is hard to say what recording I prefer because they were done at different stages of my early life. I love all the tunes.
Ok Ron, 'let bygones be bygones', so let's talk about your current activities. At the beginning of our interview you told me about THE WELL, but there are more news. You've finally joined Josh Hart's own band CHOWDER - how did this come about? Well, you already talked about it but it would be great to hear the lastest news.
Well, yes, let the past be gone and we can get lost in tomorrow! At a viewing of Heavy Metal Picnic I saw Johnny Wretched. It was late summer 2011. I hadn't seen him in years. I was happy about the film, music, everything. I wanted a band. I said "maybe we could jam some stuff". I had a positive vibe at the time. You know, sometimes you are in a funk, but I was happy that night. He had the Soul band so we started something on the side. Me, Johnny and Darren Waters on bass. Things started quickly but tailed off toward last winter. We played the HMP DVD release. A few cool videos on YouTube. We did a mix of The Well and Unorthodox. The band never got its ground but we are back again with Mark Laue (Obsessed) on bass/guitar. I hope this will progress into something!
Chowder does seem to be happening again. Josh and I got together a few of times recently. I just threw a note out there to people I know that I want to fucking do something! After playing a bit we realized we could do something. He talked to John Brenner (Revelation/Against Nature) and he was pumped at the idea of being a bass player in Chowder. Weird huh? It seems to click. I'm not surprised. They are good down to earth people! This project has a lot of potential! As a matter of fact, we have been booked for the Days of the Doomed Fest III in Cudahy, Wisconsin USA (near Milwaukee) 6/21 & 22 2013. We better get to work!
It would be great if you would record the successor of 'Passion Rift' with the new line-up. Are you working on new songs? Speaking of Mark Laue, what's going on with the REESE LAUE KALIMON PROJECT? Is it on hold?
We are feeling good at Chowder rehearsals. We are taking it slow so it will take some time. We pretty much just finished writing our first tune together. Mark and I play together often. One week it might be with a different guitarist, the next maybe a different one again. The RLK project is on hold right now. Johnny Reese is dealing with some stuff in life right now and we haven't talked to him in a while. Hopefully at one point something will pull it all together again. Right now, The Well and Chowder keep me pretty busy. I need to keep hitting those skins. If you let up for too long, you will lose your mojo!
Ok, Ron, we've reached the end of our interview. I want to say thank you for your patience and kindness. It would be great to see you again. Is there anything you would like to add?
Thank you Klaus, I am honored you wanted to spend this time to know more about what I and Unorthodox have been doing. I really appreciate that the interest is still there in Unorthodox and the other bands in which I've played in (Internal Void, Iron Man). I know Unorthodox has not really kept fans fulfilled with Unorthodox music on a consistent basis and those fans could have easily left. Life brings many hurdles as well as opportunities so it is not possible to just spend all the time writing and playing (as much as I enjoy it) so really just thank you to everyone. Somehow we will deliver all of our unreleased Asylum music as well whether it is remastered originals or rerecorded material. I have a renewed energy within me to play music. We are not done and I personally would love to play wherever we are wanted and hopefully I (we) get that opportunity while I am still on two feet!
(KK)
www.myspace.com/unorthodoxdoom
www.myspace.com/reeselauekalimonproject