BLOOD FARMERS / ACID KING / CARLTON MELTON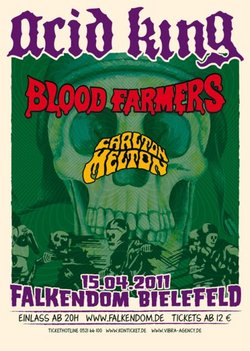 APRIL 15th, 2011 at Falkendom/Bielefeld, GER
When the news arrived that BLOOD FARMERS would tour Europe I was more than excited. First, because the FARMERS belong to my set of absolute favourite bands and second because I still can remember being floored by their gig on the Doom Or Be Doomed Fest in Baltimore 2007. Unfortunately, I was only able to attend their gig in Bielefeld. I'll tell you later why it was unfortunate for me. Arriving in Bielefeld just in time for the doors to be opened, I was a little irritated that not much people were there yet. But luckily the crowd grew quickly around 9 o'clock. Sadly, the BLOOD FARMERS were opening the evening due to a tight driving schedule for their appearance at the Hammer Of Doom fest. And I had the impression that it wasn't good for the other bands, because they couldn't not win after the FARMERS.
They opened their set with an all out instrumental called 'Gut-Shot' followed by a new song named 'Night of the Sorcerers' that had a nice punky up-tempo edge in the vein of Vitus, and also reminded me of 'Bullet In My Head'. After that the band played a couple of older tracks where the fans were familiar with. Starting with 'Albino' (which is my favourite BLOOD FARMERS tune), the band went over to 'Behind The Brown Door', followed by the incredible monster that is 'Death Master' before they wanted to close their set with 'Bullet In My Head', and I think it is their 'Fear Of The Dark'. Their performance was incredibly tight and ultra heavy. Though I had seen them the last time with two guitarists and the original lineup, this new trip incarnation of the FARMERS with Eli on bass was outstanding. What they delivered at least was not only a nice musical performance to like but an experience beyond hearing and seeing a band play. It was about feeling the Doom - an incredible experience and I'm glad I didn't miss it. But even after a few devoted and crazed out freaks in the audience (I was in the midst of them) could bring the guys back on stage for an encore in the form of 'Orgy Of Rats', that was still not enough for me. That gig was gigantic.
Next up was CARLTON MELTON who played some kind of instrumental psychedelic Stoner stuff with occasional synth sounds. After the FARMERS it was a bit boring, especially because they did not vary the rhythm much during the songs. ACID KING was headlining the evening. This was my first gig of the band and though it did not come close to the set of the BLOOD FARMERS, the reactions of the crowd were more than positive throughout their show. I must admit that I had not listened to ACID KING in quite a while, may it have been 1,5 years or what, so I cannot really tell what they played apart from their hit song 'Electric Machine', but there have been a few familiar songs. They mixed their set pretty well with some more rocking stuff and slow Stoner Doom hymns so the variety throughout the set never made it boring. There was also some fist raising in between the songs and even the local metalheads with their denim vests enjoyed what Lori and her band, especially the incredibly tight and well playing drummer, had to offer. Anyway, this was another great evening with good music in Bielefeld's Falkendom. Oh....and hail the BLOOD FARMERS. I think Klaus can tell us about similar experiences from the gig in Cologne....
(Thorsten Frahling)
BLOOD FARMERS / BLACK PYRAMID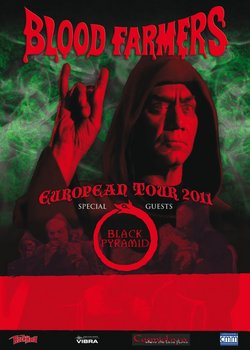 APRIL 18th, 2011 at MTC/Cologne, GER
Yes, indeed! Thorsten, unlike you, I did not have the opportunity to see the BLOOD FARMERS before, so I was pretty excited. Their excellent self-titled album was one of the last releases from the legendary German label Hellhound Records, which leads to the fact that they never had the chance to play any European shows in the mid-1990's. But this has changed and one thing can be said beforehand: It has well been worth the wait! But one after the other. I drove together with two friends to the MTC at Cologne and we arrived a bit too early, but that was no problem at all because so we had enough time for some cold beer in a nice pub. When we entered the MTC, there wasn't much going on. It reminded me of the early 1990's when for example The Obsessed played in Münster and only about 15 visitors watched that show. A few more people were in Cologne, but despite that: It would have been even nicer if the audience would have been larger. Be that as it may, there was still enough time for some conversation with a couple of good friends that I had not seen for a long time.
After approximately one hour BLACK PYRAMID kicked off their show and it was no surprise that they started with 'Visions of Gehenna', because this is definitely one of their best tracks. BLACK PYRAMID was committed, but unfortunately they have not had their best day. The sound was less punchy than expected, and apart from that, the final spark didn't seem to ignite between the band and me. As it was to be expected, BLACK PYRAMID played some tracks from their debut album such as 'The Worm Ouroboros' or 'Cauldron Born', but they included also some new tracks. However, as was mentioned earlier, I found no access to their heavy metallic Sleep-esque sound, although I like their records. But on this night, their songs seem aimless and lifeless and as a result I got bored easily.
After a short break it was finally time for New York's BLOOD FARMERS. As opposed to past days the band is now a trio consisting of Eli Brown (bass, vocals), Dave Depraved (guitar) and Tad Leger (drums). Unfortunately, bassist Philip 'Dr. Phibes' Markonish died in 2010 while drummer Mike Jett (M-Squad) had left the band several years ago. Right from the start, BLOOD FARMERS made clear that they still understand their craft. That was pure and unadulterated doom metal that was rounded off by a subliminal 1970's heavy rock edge. According to that, Eli Brown's SG bass design was as colourful as a hippie shop in Haight Ashbury in 1967, but otherwise this was the perfect sound to scare off all flower children. By starting the set with a crushing instrumental track named 'Gut-Shot' the band was obviously on a mission to let us all know that they have certainly not become a stagnant entity since slipping off the radar. BLOOD FARMERS unique power is still there and the monstrous riffs of Dave Depraved sounded just as fresh and powerful as in the 1990's. To me Eli Brown's blues-infected towering voice was always the icing on the cake while Tad Lager showed that he was more than just a replacement for Mike Jett. To sum it up in one sentence: BLOOD FARMERS were a well-oiled and blood drenched machine which was fully justifiable the headliner of this evening.
Tearing through the MTC with favourites as, for example, 'General Urko / I Drink Your Blood', 'Orgy Of The Rats', 'Y.G.B.' and 'Bullet In My Head', the band created a maelstrom of uncompromising heaviness. There were also some new tracks which fitted smoothly into the set list. Thus, I can only hope that BLOOD FARMERS will record their new album as soon as possible. As an encore they did play a fantastic cover version of Black Sabbath's 'Wicked World' that fits to their own tracks like hand in glove. After the gig I've talked to Eli and he told me that this was not only one of the longest shows in the band's history but also one of their best. Concerning the second statement, I could not agree more. BLOOD FARMERS impressively demonstrated that doom metal doesn't have to be cheesy or kitschy. They are dirty like a mangled corpse in the woods and the heaviness of their live sound is absolutely impressive. A truly thrilling night, it'll be difficult for newer doom metal acts to top... Here's hoping that this time BLOOD FARMERS are not away for too long.
(KK)