ASYLUM (The Earth Is The Insane Asylum Of The Universe) CD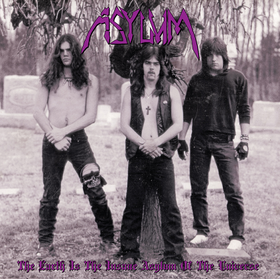 With the release of ASYLUM's first demo, Shadow Kingdom Records enables us to take a look at the very early years of one of Maryland's finest bands. By now, it should be generally known that ASYLUM changed their name into UNORTHODOX in the early 1990' shortly before Hellhound Records released their debut album 'Asylum'. Originally recorded in 1985, 'The Earth Is The Insane Asylum Of The Universe' includes seven songs, which have been recorded from the first line-up consisting of Dale Flood (guitar/vocals), Ron Kalimon (drums), and Earl Schreyer (bass). Even in the very early years the music was strongly oriented towards the genre of 70's hard progressive rock. Maybe stronger than in later years, but I also note that there's a good sense for strong hooks and memorable choruses. Needless to say that their sound is influenced by Black Sabbath, too, but it's not as obvious as with other bands from Maryland how, for example, Internal Void or Revelation which surfaces later in the 1980's.
For me, as an old time fan of ASYLUM/UNORTHODOX, it is fascinating to listen to this recordings. At this time, the band has carved out an individual sound, based on perfect partnership, their refined musicianship, and their joy in playing together. The first two songs 'Asylum' and 'Motherless' appeared later in slightly different versions on the first two albums, whereas the rest of the material is previously unreleased. Complex guitar chords in combination with melancholic melodies also characterise the remaining five songs and, simultaneously, they're incredibly energetic and powerful. Dale Flood is a particularly impressive guitarplayer, who manages with ease to launch an entire cluster of heaviest riffs, and not to forget his abilities as solo guitarist and vocalist. His solo excursions tend to become more psychedelic with each note, but never lose the connection to the metal/hardrock foundation. At the same time, the guitar solos are pleasantly melodious and emotional.
And then of course there's drummer Ron Kalimon, who's one of the best in the Maryland area, even at this very early stage in his career. Doom experts may already know that he joined Iron Man and Internal Void in the 1990's to left his musical mark there as well. It's just a pity that Earl Schreyer disappeared without trace, after his time in ASYLUM. But he has left a lasting impression on this recordings. Let me end with a few words about the packaging, because the booklet is definitely the icing on the cake. Here you'll find a lot of rare photos from the period of the early 1980's, all lyrics, and liner notes written by Ron Kalimon. If I have my facts right, Shadow Kingdom Records is planning to release more ASYLUM/UNORTHODOX demos. So I'm really pleased that someone takes care of this lost episode in the history of progressive doom metal, or however you like to describe the outstanding heavy sound of ASYLUM. No need to say that this is an essential release. Buy or die!
(KK)
www.myspace.com/unorthodoxdoom