"Been a poor boy and long ways from home
Long ways from home,
Been a poor boy and a long ways from home."
"I got 'rested, no money to buy my fine,
Money to buy my fine,
I got 'rested, no money to buy my fine."
(traditional)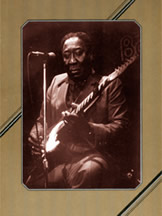 Blues - the mighty root for Rock 'n' Roll, Rock etc. this list could go on and on. I've been a huge Blues fan since my early childhood. In those days, I don't understand what this men and women were singing about, but I felt the pure honest emotion of this music and the authentic power. This must be something very real and very old. When I grew older I started to discover Blues records, and my old positive addiction to this sound was refreshed, and since then it's the red musical line in my life. No matter what my favourite music styles have been - the Blues was always there like a true and loyal friend.It's pure life, with its shining ups and its toughest downs, and everything between. Blues is not only about the dark sides of life, but it draws influences from there, and we all know that the intensity of bleak moments are necessary to feel the depths of joy and luck. Blues is life, it's love and hate, birth and death, depression and happiness. And it gives me the feeling of shelter and understanding.
to be continued...