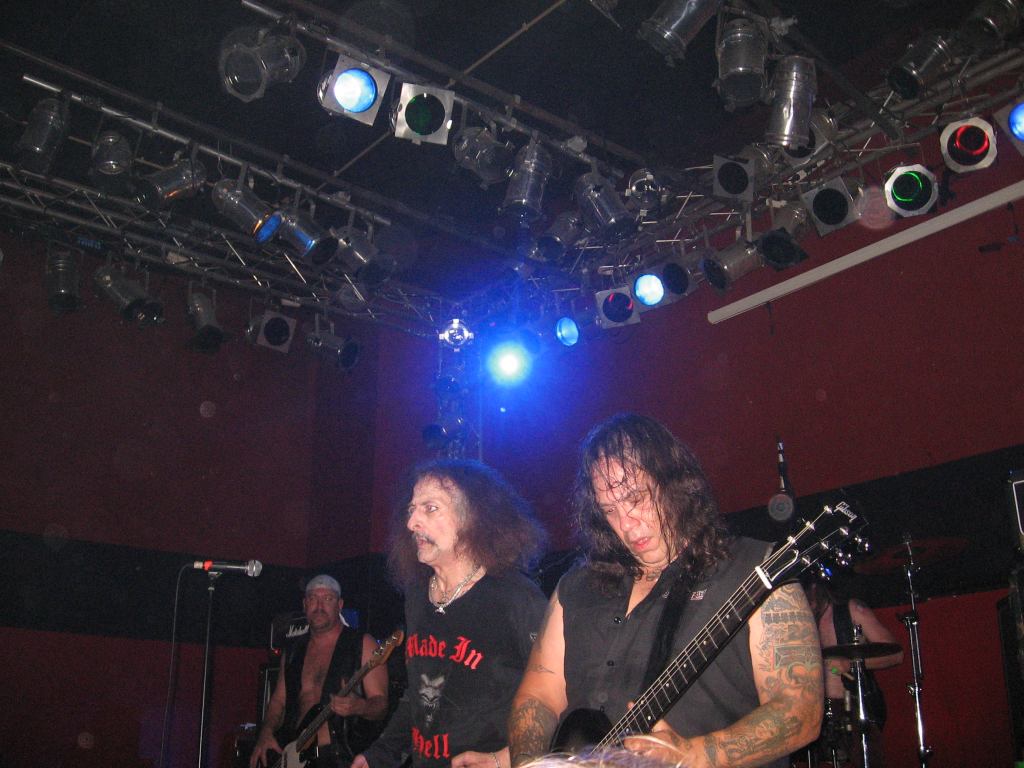 OCTOBER 3rd, 2009 at Turock/Essen, GER
Who would have dared to imagine 4 years ago that Bobby Liebling would be able to go on tour in Europe? Certainly only a very few people. But sometimes miracles happen. Together with a new lineup consisting of bassplayer Mark Ammen (ex-Unorthodox), guitarist Russ Strahan and drummer Gary Isom (ex-Spirit Caravan, ex-Iron Man, etc.), who had played before in PENTAGRAM in the mid-90's, Bobby Liebling was willing to show the European fans that he isn't dead yet. Needless to say, I was very excited to see this lineup as well as my good friends Georg and Sandra. Also very interesting was the fact to see TROUBLE after some lineup changes. Owning to my love for Warrior Soul, I was very curious to see new vocalist Kory Clarke. How would this work? After a short drive we arrived in Essen at the Turock. As usual, it was a pleasure to see and meet some familiar faces at the venue and everyone was tensed.
The first band was SYRACH from Norway and I was bored from their uninspired death/doom mix in the same way, as at this year's Doom Shall Rise Festival. It leaves me cold. Another beer, please! Then finally TROUBLE entered the stage. Today only Rick Wartell and Bruce Franklin are left over from the original TROUBLE lineup and I was really skeptical at the beginning. Surprisingly, the show started with the Lucifer's Friend cover 'Ride The Sky'. Contrary to Eric Wagner, Kory Clarke is a dynamic, extroverted frontman. He personifies and lives the rock 'n' roll spirt, whereas Eric Wagner is more at home in the world of psychedelic and The Beatles. Logically, this time there has been no 'I Am the Walrus' at the beginning of the show for what Eric was responsible. The setlist consisted of old and new songs. 'Assassin', 'R.I.P.', 'Touch the Sky', 'Troublemaker',or 'The Tempter' are among the highlights of the show. The new song 'Hunter of Doom' was amazing as well. And what about Kory Clarke? Well, it is clear that no one can replace Eric Wagner's unique voice, but in my opinion Kory Clarke did a considerable job. His rough and hoarse voice is also pretty unique, and he leaves his own stamp on TROUBLE's heavy sound. Not everyone will like him, but some will and I'm one of them. After that show, I believe that the upcoming new album 'The Dark Riff' will be very interesting.
Then it got really exciting: For the first time PENTAGRAM was in Germany. What would happen? Based on the reports from people who had seen the band this year in the USA, it seems as if this could become a killer show. First of all, I must say that it was a killer show. Bobby Liebling was in best mood, accompanied by a very good band. Well, there was no Victor Griffin, no Marty Swaney and no Joe Hasselvander, but nevertheless the band was firing on all cylinders. The show starts with 'Wheel of Fortune' followed by 'Forever My Queen'. Within a few minutes the people were freaking out and despite Bobby Liebling's personal problems, he was still a charismatic and unique frontman. He knows how to entertain a packed hall. Further it went with 'Review Your Choices', 'Walk in the Blue Light' and 'Take No More', a new song written by Gary Isom. A good track, but 'South of the Swamp' was considerably better. It was the second new track in the setlist, written by Russ Strahan and I can only hope that it will be on the upcoming new album 'Last Rites'. The first opening riff was so damn heavy....holy fuck. Well, actually each song was real heavy, full of powerful grooves while Bobby Liebling often impersonated different characters; from the demoniac madman to the tender seducer. The reaction of the crowd was overwhelming and the band seemed to be surprised. What for a perfect energy exchange! In between, there were some real funny announcements from Liebling, which shows that he's a very humorous person. Other classics included 'All Your Sins', 'Petrified', 'Earth Flight' and an extended version of '20 Buck Spin'. Then the band left the stage, but the people did not want that. Consequentially PENTAGRAM came back and in spite of this very exhausting activities, they brought two encores. The first was 'Sign of the Wolf (Pentagram)' and at the end 'When the Screams Come'. All in all, that was mind-blowing show and one of the best gigs I've seen in a long time. PENTAGRAM have clearly been the winners at that historic evening. I'm really grateful that I was there. Unforgettable, really unforgettable!
(KK)
(Photos by Sandra Schwudtke / Please, don't use without permission!)