WIZARD'S BEARD (Pure Filth) CD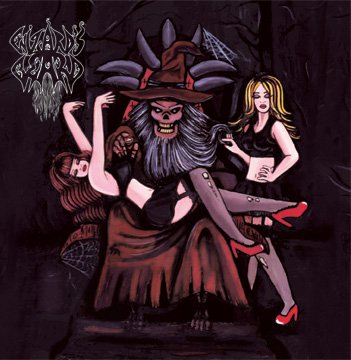 Due to the band name and cover artwork, I expected some sort of generic occult-inspired doom, but instead WIZARD'S BEARD is more orientated to the album title. In concrete terms, this means that 'Pure Filth' offers delicate and raw sludge. There is nothing new here, but the overall execution is pretty convincing. The necessary attitude is at the right place, which means that there is no room for any uplifting or funny moments. In doing this, WIZARD'S BEARD continue the tradition of bands such as Grief, Goatsblood or Negative Reaction. However, this is rounded off by a strong dose of Ampethamine Reptile-styled noise rock, with the result that the album is all a bit more difficult to digest.
With bone dry production and enough variety that shimmer through all five tracks, WIZARD'S BEARD provide me with the kind of filth-drenched heaviness that is always welcome at any time. Already in the past the UK was a fertile ground for this genre and here, too, 'Pure Filth' doesn't need to hide itself even from the most well-known sludgemongers from that country. Building their sound upon a foundry of monolithic noisy guitar riffs, a bludgeoning rhythm section and harsh vocals, WIZARD'S BEARD blast their way through bleakness and pessimism. Thereby, the pace varies from up-tempo to a snail's pace which makes sure that 'Pure Filth' is a very dynamic album.
Suddenly, there is an unexpected break and the song is heading in a different direction. It also shows, that WIZARD'S BEARD has more to offer than just standardized sludge. Maybe it's also because Chris Hardy is in the band, who is also in the lineup of Agent Of The Morai, who released a fantastic split EP together with Slomatics on Calculon Records. But whatever the number, WIZARD'S BEARD implement their own ideas, but without denying their influences. That is also why their sound differs from Agent Of The Morai, which are more infected by the unhealthy vibe of EyeHateGod. For my part, I am very pleased with the debut album from WIZARD'S BEARD. It's a very entertaining work and it would be wrong to ignore this band, especially when you are looking for brutally tortured doom.
(KK)