WARNING (The Strength To Dream) CD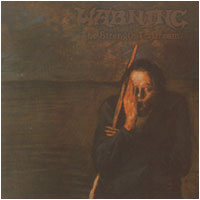 Finitely everyone can breathe a sigh of relief, who had no chance to buy the first album from WARNING until now, 'cause Cyclone Empire reissued this monumental masterpiece in 2008. That was badly necessary, because 'The Strength To Dream' belong to one of the best Doom Metal-albums whichhas been recorded in the past ten years. Orginally released in 1999 through The Miskatonic Foundation, this dark shimmering monolith will stand the test of time even when we have all disappeared from this planet. I already wrote a positive review about this album in 2000 and I wouldn't change one single word today. Hardly another band in Doom Metal had the talent to combine heart-rending melancholy with crushing hardness like this English band.
Each riff is amazingly weighty and possesses the power of a jackhammer, while vocalist/guitarist Pat Walker knows to set a course with his matchless style of singing. All compositions are elaborate and arranged very effective, and despite their siziness WARNING's songs aren't boring for a second. Especially due to the intransigent length of the included five songs (between 7+ - 13+ minutes) WARNING unfold their complete effect and it's hardly impossible to abdicate from this intensity. Sometimes they increase the pace for a short time as in 'How Can It Happen?' and in such moments their sound is simply merciless without losing their musical beauteousness. Actually it's needless to mention that their playful abilities are above reproach. Despite the slowness 'The Strength To Dream' ist very dynamic and diversified and that's something I miss in some of the current Doom bands. I recommend this album very urgently to anyone who didn't have the opportunity in discovering the super-heavy elegance from WARNING. And for the case that you own the first pressing maybe the new cover-artwork could be an incentive to buy this album again, because it can't be wrong to have two copies from this ingenious album...
(KK)