JEX THOTH (Witness) MCD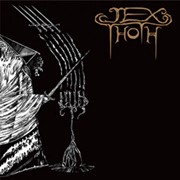 Up until now, JEX THOTH have been very busy in 2010. A few weeks ago, the band finished their first European tour, including an appearance at Doom Shall Rise VIII and two shows at Roadburn. At the same time, I Hate Records released 'Witness' that consists of three brandnew tracks. Not much has changed about the musical content, which is a very good thing. Even if I don't belong to the people who deluge JEX THOTH with praise, I got to admit that their songs hold a strong fascination for me. This is due to the female vocals that unfold a nice mysterious charm and remind me to a couple of female vocalist form the 1960's such as Nancy Sinatra. Accompanied by a sinister sounding organ it's impossible to ignore the fact that JEX THOTH are related to the occult driven rock bands of the late 1960's. In addition to that, their music is loosely linked with the spirit of folk music and psychedelic rock. This is why their sound is not free from hippie-esque undertones, although JEX THOTH probably have a stronger spiritual connection to the darker side of the 1960's than to Woodstock's philosophy of love and peace.
Also for this reason 'Witness' is as dark as the cover artwork that again comes from former Reverend Bizarre bassplayer/vocalist Sami Hynninen. The first song 'Raven nor the Spirit' is merging without transition into 'Slow Rewind'. Both tracks are on the haunting, oppressive scale of JEX THOTH's music and I like 'em more than most of the songs from the self-titled album. Especially 'Slow Rewind' is a stunning song soaked with melancholy and beauty. The last song 'Mr. Rainbow' is a Slapp Happy cover version and also here the musical performance is flawless. Of course, JEX THOTH's version is much heavier than the original which can be found on Slapp Happy's 'Acnalbasac Noon' album featuring Faust as backing band. In any case, JEX THOTH have demonstrated their knowledge about obscure bands from the 1970's and they made a good choice. To conclude, 'Witness' is a very good release and unavoidable for fans of this US band. For newcomer it's a fantastic start, even though their first EP is still a great debut.
(KK)