IRON MAN (The Passage) CD/DVD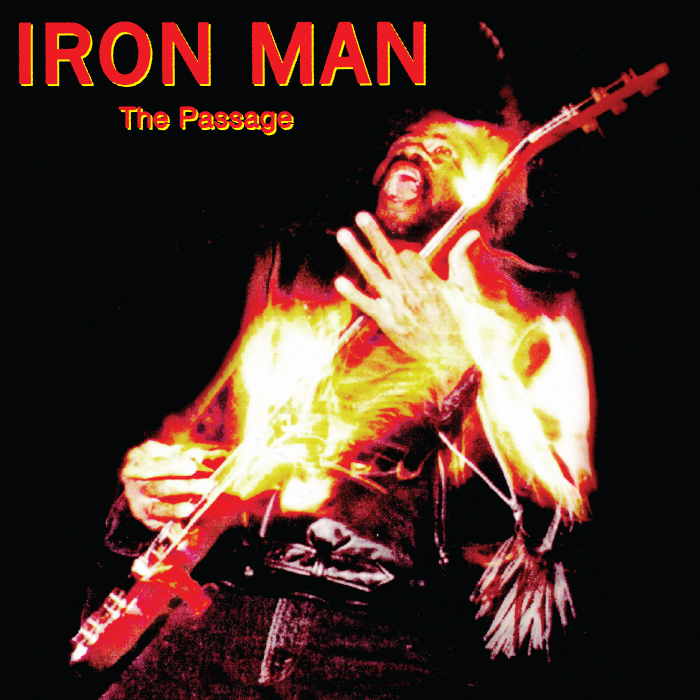 To those who may be asking why there's a another re-release of IRON MAN's second album within a relatively short time, I can give a simple answer. Due to the sudden decline of Leaf Hound Records, who released the first edition, it is now almost as difficult to find a copy of the re-release as the original one on Hellhound Records. Fortunately, we have Shadow Kingdom Records who recently reissued IRON MAN's first album 'Black Knight'. And yet again they show how such a perfect re-release should look. The bonus material comprises a promo video of 'Iron Warrior' from 1995 and a DVD with a show from 1999 plus an additional IRON MAN performance at the 'Black Sabbathon' which was a tribute show in Maryland for Black Sabbath in 1999. And last but not least I should mention the more detailed booklet. To sum it up, this is definitely like a wet dream for fans.
But let's start with 'The Passage' that was originally released in 1994 by the pathbreaking German label Hellhound Records. At this point in time, there have been some changes in IRON MAN's lineup. Drummer Ron Kalimon (Asylum/Unorthodox, ex-Internal Void) and vocalist Rob Levey have left the band and were replaced by drummer Gary Isom (ex-Heavy Soul, Pentagram, ex-Spirit Caravan and many more bands) and singer Dan Michalak. Especially Dan Michalak provided the band with additional vitality, because he was a classically trained heavy metal singer. In combination with Al Morris bone-crunching riffs this resulted in a fresh sounding album. So it is no surprise that 'The Passage' has become a classic by now. Here you'll find eleven heavy tracks that will kick your ass and blow your mind. The lyrics of 'Freedom Fighters' are the only weak point of this album, but otherwise it's flawless. Once again, Al Morris invokes the spirit of the first three Black Sabbath records with his churning skull-crushing sound while the rhythm section launches one powerful groove after another. Even after 16 years 'The Passage' doesn't sound antiquated and I can only underline that some of the recent doom metal bands should listen to this lesson in penetrating power.
Now let's take a look at the bonus stuff. The show at the Jaxx is not professionally filmed, but nevertheless the quality is surprisingly good. It features IRON MAN's 'Generation Void' lineup and therefore the band presents a good cross-section of songs from their third album and a few tracks from the first two records. The entire performance is strong and it's really a shame that they never played a tour here in Europe at the time. This is followed by the shots from the Black Sabbath tribute festival at the Phantasmagoria in Wheaton, Maryland. It must have been an amazing evening for the bands and the audience. IRON MAN play four Black Sabbath songs ('Lord Of The World', 'Killing Yourself To Live', 'Paranoid', Iron Man') with two different lineups. The first one consists of Rob Levey (vocals), Ron Kalimon (drums) and Larry Brown (bass). It's just amazing to see the 'Black Knight' lineup on stage and Al Morris is in his element, because it was nothing unusual for him to play Sabbath songs. After all, since the late 1980's, IRON MAN started as Sabbath cover band, tough the roots reach back to the late 1970's (do you remember FORCE?).
Ok, back to the live performance. Next, there are a few changes in the lineup on stage. Drummer Joe Hasselvander enters the stage as well as bass player John 'Wretched' Koutsioukis (Soul, ex-Wretched, ex-Unorthodox, ex-Pentagram) and an unknown female vocalist. I don't think that this was a real IRON MAN lineup, but more a meeting of friends on stage. However, it's a lot of fun to watch their performance. All that remains for me to do is to thank Shadow Kingdom Records for the fantastic and splendid work. Even if you own the original Hellhound album and/or the Leaf Hound edition this re-release is indispensable because of the bonus material. This is a mandatory release for each doom collection.
(KK)