IRON MAN (Black Night) LP/CD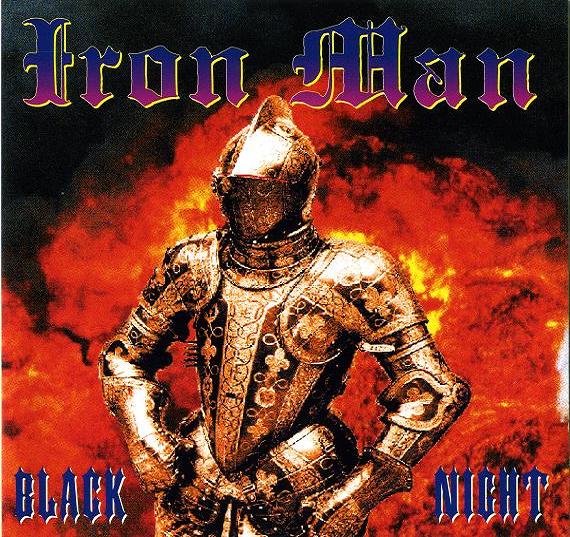 There is little to no doubt that IRON MAN's first album had become a classic over the years. Originally released in 1993 by Hellhound Records, 'Black Night' showed once more the musical variety of Maryland's heavy rock/doom scene. Although all bands from that federal state in the USA have been influenced by Black Sabbath, no one came so close to the early records from Iommi & Co. like IRON MAN. Thus, it is hardly surprising that IRON MAN started as a Black Sabbath cover band, but the true origins lie in the late seventies, when the band's mastermind Alfred Morris III founded FORCE. Unfortunately, FORCE never had the chance to record an official album, but then in the early 1990's Hellhound Records enabled IRON MAN to record their first album packed with ten self-penned tracks.
Meanwhile it's almost impossible to find a copy of this album, but fortunately we have Shadow Kingdom Records who make sure that this masterpiece is available again. Only as a side note, let's not forget that they have also released IRON MAN's new album 'I Have Returned'. Back then in 1993 I was immediately struck by the brutal heaviness of 'Black Knight' and it is still one the heaviest albums in the Hellhound catalogue. Alfred Morris' supersonic and powerful, thick, almost leaden riffs display a terrific raw energy, but despite all brutality they are bluesy and soulful. Sometimes, it seems as if he's playing all the riffs and solos that Tony Iommi has forgotten. And then there is the super tight rhythm section consisting of Larry Brown (ex-FORCE) on bass and drummer Ron Kalimon (Asylum/Unorthodox, RLK Project, ex-Internal Void). They give the necessary hold for the gargantuan riffs and provide the songs with slamming grooves. The only thing I never get used to are the vocals of Rob Levey (the organiser of the legendary Stoner Hand of Doom festival). Sometimes he doesn't strike the right notes or he sounds too weak. Luckily this doesn't happen too often and furthermore, the songs are simply too strong so that they can not be weakened by an average singer.
Nowadays many people believe that doom metal needs to be extremely slow, but IRON MAN are proof that doom can be energetic and dynamic. Here are uptempo songs like 'The Lair' (a re-recorded version of 'Last Chance' from FORCE) and 'Leaving Town' that are deeply ingrained in rock 'n' roll while 'Life's Toll' is just unbelievably heavy. In direct comparison to the Hellhound version, the re-issue has a better sound, largely owing to the fact that it has been re-mastered by IRON MAN manager Lucifer Burns. However, there is no additional bonus material, but at least the booklet contains all lyrics and informative liner notes written by Kevin McHugh. 'Black Night' is an essential album and I'm looking forward to Shadow Kingdom Records re-release of IRON MAN's second album 'The Passage'.
(KK)