GREENLEAF (Nest Of Vipers) LP/CD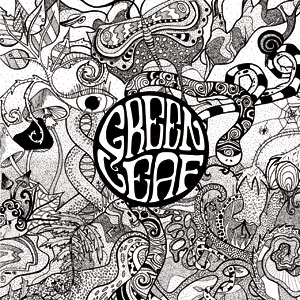 Life can be strange sometimes. In this case, that statement refers to GREENLEAF, or better said, it relates to the fact that I really like this band from the time when they released their debut album 'Secret Alphabets' via Small Stone Records in 2003. Maybe you are asking yourself now, "What is so strange about that?" Well, the answer is simple: the band consists of members of Dozer and Truckfighters, and I do have to admit that I never was a huge fan of both groups. Hence, it seems logical to dislike GREENLEAF. But, as I said, it is the exact opposite. Admitted, there are moments on 'Nest Of Vipers' which remind of the two abovementioned bands from Örebro, but most of the nine tracks cannot hide their classic rock influences. These influences are, however, not as pronounced as on 'Secret Alphabets' (which remains my favorite GREENLEAF album), probably due to the fact that this time, guitarist Tommi Holappa and bassist Bengt Bäcke are joined by Oskar Cedermalm (Truckfighters) on vocals, Olle Mårthans (Dozer) on drums, and Johan Rockner (Dozer) on second guitar. But this is all pure speculation.
What is certain is that 'Nest Of Vipers' boasts with a great deal of energy, lots of variety and many good songs. One of these gems is 'Case Of Fidelity' which not only shows GREENLEAF's talent for haunting compositions but also for powerful guitar riffs. Oskar Cedermalm's vocals aren't anything very special, but they're a perfect compliment to the heavy, fuzzy sounding guitars while his voice definitely grew on me with each additional spin. In 'Sunken Ships', he hands the micro to guest vocalist Peder Bergstrand, who also does a nice job. Another guest on this album is Opeth keyboardist Per Wiberg. He adds to two songs ('Lilith', 'Nest Of Vipers (A Multitude of Sins)' a nice organ sound that evokes memories of the 1970's.
Especially the wonderful psych-tinged title track is inspired by that period of time. But basically, GREENLEAF have taken the stylistics of 1970's heavy rock and transported it to the present times instead of of mimicking a band from 1974. That is precisely why I put the classic rock label on these guys. But don't worry - I'm not obsessed by pigeonhole thinking. All in all 'Nest Of Vipers' is a very good album and shows a different side from GREENLEAF. For my taste, it's not as good as the glorious debut 'Secret Alphabets' (review here) and has more in common with the previous album 'Songs Of Ahriman'. Irrespective of this, GREENLEAF is still an above-average heavy rock band.
(KK)
www.myspace.com/greenleafheavyrock