GORSE (Old Certainties) CD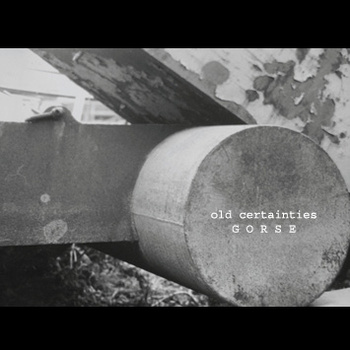 GORSE's first release 'Slumber Of Artemis' (review here) was definitely a promising debut and it's good to know that this English wrecking crew didn't broke up. But it gets even better, because with 'Old Certainties' (released by Waitstock Productions in November 2011) GORSE have dramatically increased. The opener 'Stallions At The Cross' sets the tone literally from its first second, conjuring up an oppressive atmosphere. It's jaw-dropping heaviness crawls in every cell of my body and GORSE's assault is measured, precise, and above all unpredictable. Not only the opener, but the album in its entirety is a tightly woven conglomeration of various ingredients.
The huge guitar tone of vocalist James Parker (ex-Hey Colossus) reminds me of some heavy rock bands, but due to their bulkiness GORSE is rather linked with the aesthetics of noise rock. Twenty years ago, 'Old Certainties' would have been released by Tom Hazelmyer's unique record label Amphetamine Reptile Records, better known as Amp Rep. The rhythm section of Jennie Howell and Olly Thomas seem to get bored with straight 4/4 rhythms, and mess with timings, add fills as well as some pretty odd tempo shifts.
Added to this is a keen sense for subtle sonic details as for example in 'Ramifications' or in 'Crucible'. It is obvious that GORSE have given much thought to this album, before they entered the basement studio of drummer and backing vocalist Jennie Howell. The production is somewhat hollow, which gives the album a raw, intense and 'in your face' aura. But 'Old Certainties' becomes never too overcomplicated. It's organic, earthy, heavily energetic and there's a great flow through the album. Nonetheless, it is quite demanding and offers only less relaxation. It is the exact opposite of elevator music. In conclusion, I would like to say a few words about the lyric sheet. Strictly speaking, it's a little handwritten book that looks simply gorgeous. It's the right way to present GORSE's thought-provoking lyrics. 'Old Certainties' is wonderfully brutal and absolutely great.
(KK)