F.T.W. (A Tribute To Gideon Smith) CD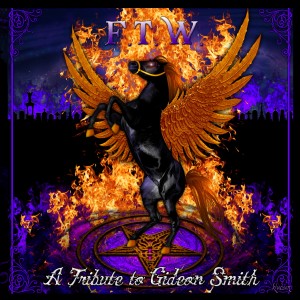 Not everyone deserves a tribute compilation but for sure Gideon Smith. Why? Quite simply because he's not only a gifted musician and songwriter but also a very good author. His first publication 'Way of the Outlaw Spirit' was one of the most inspiring books I've read during the last five years, because it is more than just another rock 'n' roll autobiography. It is more like spiritual and philosophical manifest, which fortunately is completely undogmatic. Gideon Smith shares his experiences of life and is trying to keep a positive viewpoint instead of jumping on the nihilistic bandwagon that is so popular currently. He also avoids to preach or telling the reader how to live your life. And, of course, there is his music. I have to admit that I'm a fan and especially his last album'South Side of The Moon' is a masterpiece. Not surprisingly, 'F.T.W.' is a tribute to his music and has been released in 2010 via Scorpius Triangle Records.
Altogether, here you will find seventeen bands/musicians from the USA, Europe and Canada, each with their own individual interpretation of a song from Gideon Smith & The Dixie Damned. What particularly appealed to me is the fact that each artist has given his own personal touch to the songs. In this context, 'F.T.W.' covers a wide range of musical styles. 'My Darling Black Rose' has been given a special doom treatment by TREMBLE SAITH THY MASTER while HONKY TONK HUSTLAS have turned 'Breaking Hearts & Horses' into a powerful rockabilly song. One of my faves is DEAR DRUID's soulful version of 'Lay Me Down In Ecstasy', but I also dig WAY DOWN WEST, who injected a double dose of energy and heaviness into 'Karma Violation King'.
One of the biggest surprises comes from DANNROS SYSTEMS OF ROMANCE. Their electronic version of 'Dionysus Child' could have been recorded in 1982 and reminds a bit on early Depeche Mode or Soft Cell. Even if I don't like each single cover version (it's no wonder with seventeen artists), I appreciate the fact that each contribution has its distinctive character. The eight page booklet is packed with lots of personal liner notes and the stunning cover artwork and layout (crafted by KhaosART) embodies the spirit and attitude of Gideon Smith's music. So if you're a fan of Gideon Smith & The Dixie Damned, it's definitely a good idea to buy a copy of 'F.T.W.', because this is a great tribute compilation!
(KK)
www.myspace.com/gideonsmithtributealbum
www.myspace.com/gideonsmiththedixiedamned