GIDEON SMITH & THE DIXIE DAMNED (South Side Of The Moon) CD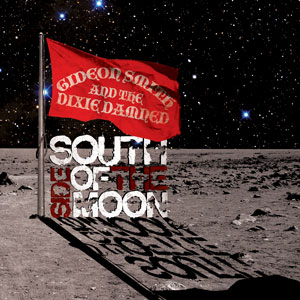 It's been four years ago since the last album 'Southern Gentlemen' and even when there was the 'Dealin' Decks' EP in between, it seems to me as if the wait was endless until the release of the second full-length from GIDEON SMITH & THE DIXIE DAMNED. But it was worth waiting for it, because 'South Side Of The Moon' is simply superb. It looks as if only a very few members are left from the old line-up of THE DIXIE DAMNED, but instead a lot of friends supported Gid like for example Phil Dürr (Big Chief, Giant Brain), Mark Miers (Novadriver) among others and even Small Stone Records chief Scott Hamilton unpacked his guitar to participate at the recording sessions in Detroit, while other songs have been recorded in North Carolina. 'South Side Of The Moon' has been a long time in the making, but the work was successful, because GIDEON SMITH & THE DIXIE DAMNED never sounded so fully developed and varied like here. Also the production, done by Eric Hoegemeyer and Al Sutton, is more differentiated than on any other release. What I also love is the psychedelic spirit, that runs like a red thread through the whole album.
Beautiful ballads like for example 'Daughter of the Moon' or 'Lay me down in Ecstasy' particularly sound as if they have been recorded after a mescaline-soaked night in the desert, while GIDEON SMITH's dark and bluesy shaman-like vocals remind of Jim Morrison, Ian Astbury or Glenn Danzig. Needless to mention that he doesn't try to reproduce their low tone, because he develpoed his own unique style over the past years, so don't get it wrong here. 'Save a Dollar for the Dead' is one of the few moments where I can hear some belligerent undertones in his voice comparable with a wolf that bares his teeth. 'Feather's Shadow' knows to surprise with the sound of an additional hammond organ, while 'Black Cat Road' is branchless Delta Blues, but every single song here is peppered with a lot of good ideas. The foundation of GID's music remains Southern Blues, Country, 70's Hardrock, outlaw poetry, 50's Rock 'n' Roll and a lot of authenticity that is hard to find in current times. On the whole 'South Side Of The Moon' is a damn intense and honest album, that offers much more than the stereotypical Lynyrd Skynyrd-styled Southern Rock, but that was always a trademark of GID's music. By the way, the idea for the album title as well as the artwork is just felicitous. Now you have only to buy this awesome album.
(KK)