END OF LEVEL BOSS (Inside The Difference Engine) CD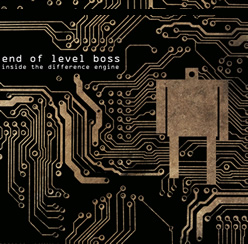 Here now is the second full-length and a few things have changed since their debut 'Prologue'. The label is still Exile on Mainstream Records, who did release this disc in 2007, but the former drummer and guitarist have been replaced by Ben Hallet and guitar-player Roland Scriver, who played also in UK-Doom band Sloth. Maybe this exchanges are one of the reasons, why the new END OF LEVEL BOSS is more progressive than the debut, although the overall sound is still the same. The voice of guitarist Heck Armstrong will always remind the listener to a young Chris Cornell, while the sound of the guitar is as warm and heavy as we know it from Kyuss. Once again the difference is to find within the arrangements. In my opinion this is hard progressive rock, that is deeply rooted in the current decade, but due to the production of the album the sound is more dirty and filthy, instead of being to sterile as we know it from other prog bands.. It takes its time until one has grasp the complexity of this album, but in return it will always be interesting to give it another spin and to disover more structures.
A few of the songs as for example 'Connotations' leave all typical descriptions behind for END OF LEVEL BOSS and do catapult the band straight into free jazz territory while 'Mr Dinosaur is lost' with its grinding groove shows that the band is still able to write catchy songs. 'Inside The Difference Engine' bribes by its variety and it's good to know that this group isn't tied to only one formula. With the new disc, they have broaden their metal-drenched rock and it sounds as if they would come up with more surprises in the future. Meanwhile, I will enjoy this here very often, because END OF LEVEL BOSS offer a real alternative in times, where a lot of stagnation is happening within most musical genres. So don't move along because there's a lot see here!
(KK)