DxBxSx (Ihr! Alle! Immer!) LP/CD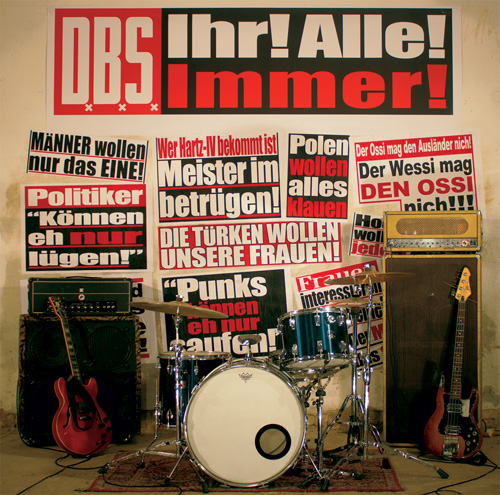 After the successful release of the previous album 'Zugriff' (review here), Berlin's DxBxSX is back with another full-length, which picks up seamlessly from where its predecessor left off and again wins me over with its humor, anger and rough charm. Again, DxBxSx are sounding stripped down and raw, but this rawness is a perfect compliment to these 12 songs. Moreover, it's the kind of album that blows a stupid label like "stoner" outta the water. DxBxSX pretty much follow in the footsteps of all the great rock'n'roll bands who had the guts to play music with lots of energy and to play it loud.
They spit out commentary on generalizations, stereotypes, media and social hysteria and a number of other issues. As with 'Zugriff', the German lyrics are sometimes just funny but in a clever way, while others are very thought-provoking. With regard to the music, DxBxSx managed to combine their influences into a staunchly individualistic stew that still sounds amazingly intense and contemporary in this jaded day and age.
In addition, there is no lack in variety. 'Liebesgrüße nach Neukölln' surprises with 1970s hammond rock sounds, whereas '120 Ruhepuls' is not far removed from early Ramones. 'Action Moni' offers a fresh take on 'Wild Thing', made famous by the legendary British band Troggs, while 'Echte Männer' recalls the high enery rock from Detroit. Overall, DxBxSX's originality in lyrics with their brute, genre-crossing sound is still a breath of fresh air. Great!
(KK)