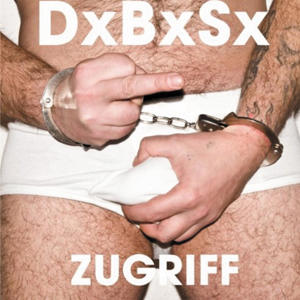 To be honest, I was delighted when I have noticed the name Boskops in the press info of 'Zugriff'. Why? For me as an old punk this is a well-known name. Boskops were one of the best German hardcore punk bands in the early 1980's and I was a huge fan at this stage. Well, I still like them because they have always done their own thing, quite contrary to some other German hardcore punk bands. But what has DxBxSx (better known as DRIVE BY SHOOTING) got to do with this? The answer is simple: they do not only sing in German (except for 'New Beat'), but also share the same rough and unpolished attitude with Boskops. It is therefore perfectly legitimate to mention them in the press info.
And like Boskops, DxBxSx doesn't mince matters. The lyrics are peppered with sarcasm and irony and deal with daily life. To match this, the music is raw, energetic and melodic all at the same time. There is a slight 1970's heavy rock/proto punk influence, but DxBxSx do not drift into retro territories. I think it's a pretty timeless album and one can feel that this three guys give a shit about current musical trends. And it is precisely this that makes 'Zugriff' so refreshing and inspiring. Just take a look at the funny cover artwork and you know that DxBxSx are more punk than most of today's punk bands. The music sounds like playful ease, on a gut level, loose, very catchy; however it is high quality and very professional.
Another bonus of 'Zugriff' is its intensity, and I recommend, as a matter of urgency, to listen closely to the songs if you are not familiar with it. Because in contrast to many other bands, DxBxSx really have something to say. To me, there's no filler on 'Zugriff'. The songs are varied and effective and just a kick in the face. Therefore I won't pick out individual tracks, because there is a seamless flow through the whole album. Another point of note - the production sounds fantastic. It emphazises the maladjusted attitude of DxBxSx, and I wouldn't be surprised if these guys have recorded 'Zugriff' without any tricks and gimmicks. To sum it up, I always liked DxBxSx, but now they have outdone themselves. Yes, I am very enthusiastic about this great record. If you like honest music, you can't go wrong with it.
(KK)