DEWOLFF (Orchards/Lupine) LP/CD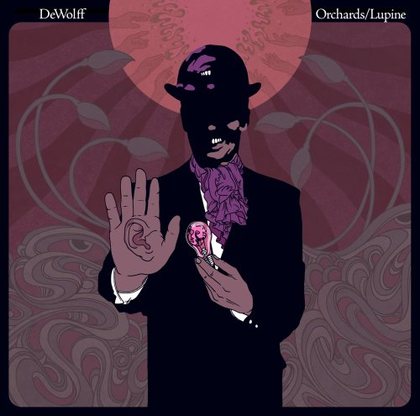 Despite their success, DEWOLFF don't play it safe with their new album. In fact, it's quite the opposite. 'Orchards/Lupine', released in 2011 via REMusic Records, turns out differently and adopts a new approach. Although DEWOLFF is still closely linked to the rock music of the late 1960's/early 1970's, half of the new songs represent a departure from the blues-oriented material of the last album 'Strange Fruits And Undiscovered Plants'. To me 'Orchards/Lupine' appears like DEWOLFF'S 'White Album', because they integrated a lot of different styles into the new record ranging from westcoast psychedelic pop and heavy rock to folk and dub (yes, that's right!). As a result, the included eleven tracks are significantly more progressive and they further expanded the psychedelic base of their heavy music. For this reason I needed some time to get used to 'Orchards/Lupine', but meanwhile I feel quite comfortable in this thicket of different sounds.
Especially the first half of this album shows a new side of DEWOLFF and I would like to say that it suits them very well. It's a sign of strong self-confidence when you start a rock album with a smooth and enraptured track like 'Diamonds', which has a lot in common with the psychedelic period of The Beatles. Aside from this impression, equally remarkable are the vocal lines and harmonies which reveal a Beach Boys-like quality. The same also applies to the following track 'Everything Everywhere' and I wouldn't be surprised if this guys have a strong preference for 'Pet Sounds'. During the first couple of songs the Hammond organ stands equal with the guitar or even plays a more dominant role what reminds me of early Bigelf. I want to stress, however, that DEWOLFF can stand on its own. They have developed their own sonic eccentricities, which causes an individual sound. That's only one of the reason why I never get the impression that I listen to a band who is trying to imitate their favourite bands from the 1960's/1970's. But this does not mean that DEWOLFF reinvent the wheel. It's more that they refill an old tradition with fresh and creative energy.
As a bonus, they know their instruments and are capable of writing well-thought-out songs. This is also reflected in the hard-edged cuts, which can be found in the second half of 'Orchards/Lupine'. Despite the musical differences, it's a very cohesive record where everything fits together seamlessly. Everything is rounded off by the wonderful cover artwork of Kiryk Drewinski which beautifies an extraordinary record. With 'Orchards/Lupine', DEWOLFF proved that they are currently one of the most interesting classic rock acts and it's good to hear that they enjoy total artistic freedom. Such an attitude is hard to find these days, especially when a band has built a relatively large following, as is the case with DEWOLFF.
(KK)