DEWOLFF (Strange Fruits And Undiscovered Plants) LP/CD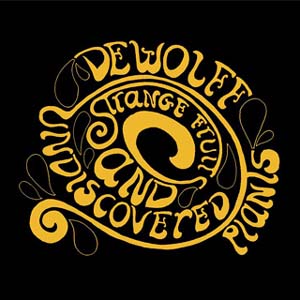 The Netherlands are a fertile ground for bands that are strongly influenced from the heavy sounds of the early 1970's, and Orange Sunshine and Wallrus may serve as good examples here. New to that bands is DEWOLFF, founded in 2007 in a Southern part of the Netherlands (Limburg) called Geleen. The band consists of three very young guys between the ages of 14 and 18, but they sound as if they were playing music since twenty years. Here, we have their debut album, released at the end of 2009 by REMusic Records and I'm surprised in a positive sense about the quality of their music. Even though the riffage, harmonies, guitar leads are reminiscent of all well-known classic rock bands - Deep Purple, Atomic Rooster, Groundhogs, Cream - this album distills it all and still manages to sound totally different. It's all there with smokin' guitars and bellowing organs that summon the gods back to the days of 1970's hardrock. Despite this, the production is modern which makes sure that the band isn't on a complete musical retro trip. What also strikes me is the variety of 'Strange Fruits And Undiscovered Plants'. You can find heavy organ-based songs such as the opener 'Mountain' or 'Don't You Go Up In The Sky' which convinces with powerful rippin' leads that are guaranteed to rock your ass.
In contrast to the aforementioned tracks, 'Birth Of The Ninth Sun' is a soulful ballad with additional piano. In the middle section is a sinister psychedelic segement which reminds me to The Doors. But not only there are strong doses of psychedelia. 'Parloscope' awakens the spirit of 1960's psych with the help of intense melodies - interspersed with heavy organ. With 'Red Sparks Of The Morning Dusk' DEWOLFF displays their talent to combine psychedelic pop with organ-based hardrock and jazz. Especially the saxophon in the last quarter is simply excellent. What I also like very much are the clear vocals of organist Robin Piso that fits in beautifully with their sound. Moreover, he also takes on the function of a bass player with his organ just as Ray Manzarek (The Doors) had done years before. Well, to put it simple: all songs are packed with great memorable riffs, cool arrangements and superb musicianship. I can assure that 'Strange Fruits And Undiscovered Plants' will please every fan of classic/retro hardrock. Oh yes, not to forget, that the LP has a different cover artwork, but the packaging of the CD is also very tasteful.
(KK)