CUZO (Otros Mundos) LP/CD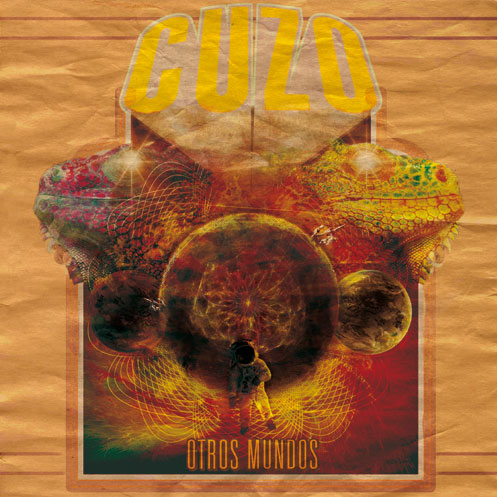 At first: I have often tried my best to gain access to CUZO's new record, but I think I have failed. For two years ago, it was already difficult enough to grasp their debut 'Amor y Muerte en la Tercera Fase' as a whole, but 'Otros Mundos' is considerably more inaccessible. Unlike the debut album, now the Spanish band completely immersed themselves in the world of obscure 1970's progressive rock. It seems as if they have been inspired only by the quaintest bands, especially the German era of progressive rock at the beginning of the 1970's comes to mind in this context. All seven songs on this album are instrumentals and completely improvised, but that is not the problem. Already on the debut full-length CUZO haven proven to be able to pull off a good chemistry, and here too these three Spanish guys shine with technical skills.
There is also no lack of good ideas. Meanwhile, CUZO have integrated an analogue synthesizer into their songs, that creates a nice 1960's/1970's psychedelic flair. Equally, this brings them close to space rock territory, one example of which is the third track 'Del Más Allá' as well as the trance-inducing opener 'Punto Cero de la Galaxia'. Thus it is no wonder that the entire cover artwork looks very trippy, and especially the large picture in the booklet reminds me of an old sci-fi comic book from the late 1960's. This aim matches the fourth song 'Coche Imaginario', where bizarre synths sounds give the music a unique feel. Additionally, it evoke associations with the Italian band Goblin so that I could well imagine using this tune for a Giallo or an old horror movie. In contrast, the sound of the guitar is soaked with fuzz and bear a great likeness to early Blue Cheer. Sometimes the songs are very melodic, almost dreamy, and then eruptive riff cascades break out, some of which are equipped with psychedelic noodlings or jazz-like parts before flowing back into gentle passages.
Well, so far, so good, but this is where my problems begin. What I would like to see is a more cohesive sound. Sometimes, there are some unexpected abrupt changes in direction that interrupt the flow of 'Otros Mundos'. It almost seems as if this cats have tried to include as much ideas as possible, and at times it is simply too much, at least for me. Moreover, the album production needs getting used to. For me personally, the entire album sounds hard and brittle, and besides, it seems a bit lifeless. Basically, 'Otros Mundos' is definitely not a bad record, but can sometimes be difficult conceive. That is why I think it is good that there is a label like Alone Records in 2010, who have the courage to release and support unconventional forms of retro-styled 1970's prog rock. For my part, I know that I won't become a huge friend of 'Otros Mundos', but perhaps you can try your luck.
(KK)