CUZO (Amor Y Muerte En La Tercera Fase) LP/CD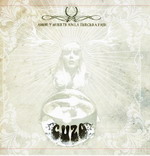 Maybe some of you know the Spanish metal band Warchetype, because two members of them are also in CUZO's line-up, but their sound is entirely different. On their debut album for Alone Records in 2008, CUZO explore the regions of rock, where improvisations, jamming and progressive rock reigns supreme, so that they are in good company with bands like Iota or Earthless. Of course, most of the here included seven instrumental tracks will remind the listener to the 70's, but similar to above mentioned bands CUZO isn't completely on a trip back to the past. There's a modern influence in their sound so that I can drop the name Stinking Lizaveta here without having a bad conscience.
Whilst I listen to this album repeatedly I can imagine that all songs have been created spontaneously during the recording sessions. Despite everything, the songs aren't pointless, but it's definitively advisable to listen to 'Amor Y Muerte En La Tercera Fase' very often or it can happen that you won't find no access to it. There are a few moments when it seems as if CUZO lose track of the flow, but it's more like an introduction to the next sequence that opens with a heavy riff or another unexpected idea. Oh well, sometimes the songs can be very heavy and also surprisingly mysterious so that the use of several musical influences strenghtens the dynamics as well as the diversity of the songs. CUZO didn't invent something new, but what they do is interesting enough to give it a shot.
(KK)
http://www.myspace.com/cuzoband