CHOWDER (Passion Rift) CD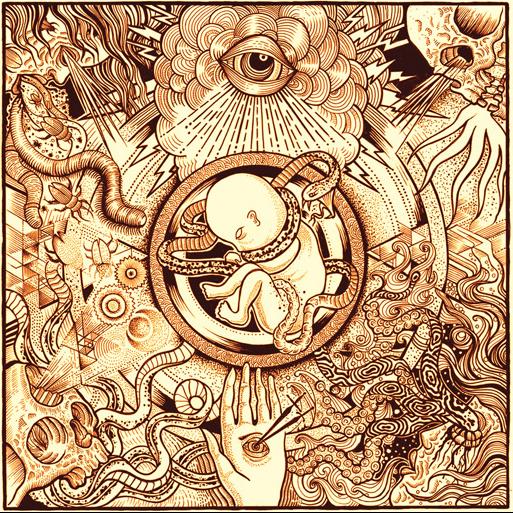 For a while it looked as if 'Passion Rift' had never been released due to several reasons, but luckily I, Voidhanger Records has realised that it would be a shame if CHOWDER's debut album would fall into oblivion. I see it the same way, because from the moment when guitarist Josh Hart (Earthride, ex-Unorthodox, ex-Revelation) had sent me the rough mixes of 'Passion Rift' it was quite clear to me that this album must see the light of day. But basically, I dig CHOWDER since the 2007 release of the self-titled MCD (review here). This is because my interest for the Maryland heavy rock/doom scene does not decrease, because still I think it's the most fertile ground for heavy music. This statement is substantiated by 'Passion Rift' that is riddled with creativity, musical enthusiasm and technical finesse.
CHOWDER combine progressive rock with doom and heavy rock, but that's not all. Due to Josh Hart's past (if you want to know more, here's an interview with him) there's also a bit of hardcore in the mix which provides additional energy. The amply use of synthesizers, Mellotron and others effects imbues the whole with a magic that is lyrical, mysterious, and passionate by turns. 'Passion Rift' features eight tracks whereby the 18 minutes long title track is the centerpiece of this album. In particular the first part of this track is very strongly reminiscent of Josh Hart's former bands Revelation and Unorthodox which is not a bad thing. But also in other areas one notices that an album like this can only come from Maryland. Despite the technical tricks, 'Passion Rift' is warm-hearted, emotional and easily accessible, mainly because of Josh Hart's virtous performance. Vocals are not necessary because CHOWDER manage to transport plenty of different feelings with their instruments.
Doug Williams is an incredibly gifted bass player who is able to play any style with conviction, but drummer Chad Rush (the last name says it all) is well-versed too. Too bad, that both left CHOWDER. Fortunately, they have been replaced by two veterans of the Maryland scene: drummer Ron Kalimon (The Well, Asylum, Unorthodox, ex-Iron Man, ex-Internal Void) as well as guitarist John Brenner (Revelation, Against Nature). Any questions? It only remains to hope that the new CHOWDER lineup will record another full-length, because that would be more than fantastic. Finally, I want to mention that the album has been produced by Josh Hart and John Brenner who, in my view, have done some excellent work on 'Passion Rift' just like James Plotkin, who is responsible for the mastering. Overall, it's a magical album, never missing a beat, almost supernatural in its cohesion and musicality, fitting in with the burgeoning heavy progressive genre but also carving a niche of its own. And if you dig the heavy bands from Maryland like me, then it's a must!
(KK)
www.myspace.com/chowderbaltimore