BROTHERHOOD OF SLEEP (Dark As Light) CD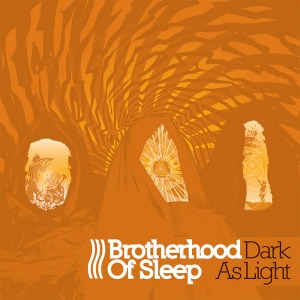 Here, we have the second album from Greek heavy progressive instrumental band BROTHERHOOD OF SLEEP and the first thing I have noticed is that they have worked on their music since the release of their self-titled debut album in 2009. Everything seems more thoughtful and more sophisticated. In the meantime, the guitar work and the accompanied bass and jazz-infected drums, work together like a couple that has been dancing in perfect harmonies for years, twirling in and out creating beauty through complex movements and accurate execution. All instruments are technically precisely matched to one another, but there's still enough room for emotions. 'Dark As Light' has no cold sound due to the earthy and powerful production. To coin a phrase, while listening to this album, I could see the glowing tube amps in my mind's eye.
As mentioned previously, there are no vocals, only instruments that carry the listener across waves and waves of heaviness. Some people are lumping BROTHERHOOD OF SLEEP into the post-whatever category, but I refrain from these comparisons. The often pretentious and artistic-for-arts-sake nature of much post-rock is not present in BROTHERHOOD OF SLEEP's music. I find their songwriting to be much more focused and direct, while still maintaining those ambient and progressive qualities that make this music so good. Each of the four songs, about eleven to fourteen minutes is full of exciting and beautiful musical passages that you can become completely immersed in, taking in every sound, every fuzz-ridden note, and every seemingly suffocating heavy riff. All songs, at least to me, conjur up a sort of emotion... be that sadness, a sense of determination and even reflection on anything.
I think that BROTHERHOOD OF SLEEP is a band that can reach to a lot of people. There's some psychedelic rock and a bit of 1990s post-rock aesthetic, but they can also apply to doom metal fans, as some of their riffs bear resemblance to Saint Vitus or early Black Sabbath. Once again, drummer Serafim G. is the icing on the cake. His versatile jazzy-influenced style pushes the songs forward like a mighty harbour tug (or something similar). But BROTHERHOOD OF SLEEP is also about soundscapes... .. and the soundscape painted with this release is of a huge scale. It seems to capture the ocean-like swelling sounds, but is less repetative as you might think. To me, this album gets better every time I listen to it, as more and more little details shine through. 'Dark As Light' is definitely worth a listen if you're an open-minded person.
(KK)