BLACK PYRAMID (s/t) 2LP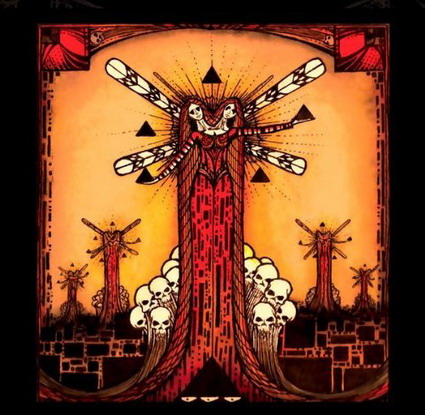 With their first 7" BLACK PYRAMID gave us a foretaste of their personal musicial vision that wasn't entirely new, but utterly convincing. The heavy riffs evoke the presence of Black Sabbath and Sleep as well as a few bands from the Maryland/DC area, such as Internal Void or Earthride, whilst the vocals are reminiscent of Sleep's Al Cisneros. The special thing about this US-band is their capability to write and arrange exciting songs. Heavy riffs and distinctive hooklines are combined in an intriguing and catchy way so that 'Visions of Gehenna' from the 7" has stuck in my memory for a very long time. To be honest, it's still there. Consequentially that means that I was looking forward to their first full-length, which has been released by Electric Earth Records in 2009. Once again, it's a strictly limited 180 gr. vinyl edition of 500 copies that is luxuriously packed in a heavy gatefold sleeve. In addition, this version owns an exclusive bonus track so maybe it will be also interesting for the owners of the CD (MeteorCity) to get a copy, particularly because 'Macedonia' is no rubbish left over from the last recording session.
In contrast to the 7", this album is more in the direction of classic 80's heavy metal, largely owing to the fact that BLACK PYRAMID has re-recorded two songs ('Mirror Messiah', 'No Life King') from the first demo. But just not there is an apparent heavy metal influence, that is mixed with a massivly fuzzed-out guitarsound. Without doubt it will be the first thing you notice when you listen to BLACK PYRAMID for the first time. This is a real feast for lovers of tube-driven distortion. There's a warm bluesy, crunch that provides the entire dynamic of the gargantuan riffs, while the rhythm section builds a stable foundation. The album is introduced with a short intrumental songs named '...And the Gods Made War', before 'Visions of Gehenna' unfolds its relentless power. Another great song is 'The Worm Ouroboros' where they practice a maximum worship at the altar of early Black Sabbath and later Sleep. Here too, the result is extremely effective, also because they have put their own signature on this song. 'Celephais' recalls also the English pioneers of doom and reminds me to songs like 'Orchid' or 'Embryo'. It also makes the album more Sabbath-esque and helps to strengthen the entire dark atmosphere. To conclude, it can be said that BLACK PYRAMID uphold their reputation in being an promisingly new band, even though I personally think that 'Visions of Gehenna' is still their best song and masterpiece.
(KK)
www.myspace.com/blackpyramidkills