40 WATT SUN (The Inside Room) 2LP/CD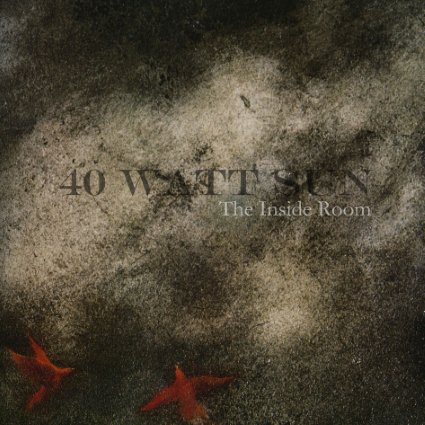 You will hardly ever find a doom metal album in the last decade that created such a sensation like Warning's 'Watching From A Distance'. The main reason for this is that they interlink, in a particularly effective way, crushing riffs and a slow pacing with strong melodies to create an emotional intensity that will leave no one indifferent. It is therefore not surprising that a lot of doomheads have been a little bit shocked when Patrick Walker, who was the creative force behind Warning, announced the end of the band in early 2009. However, the shock didn't last long: shortly after, Walker decided to form a new band under the name 40 WATT SUN. He recruited bass player William Spong as well as drummer Christian Leitch, who was the guitarist and founding member of London-based band The River. Needless to say, the doom community was happy as hell and the band's appearance on the last Doom Shall Rise festival in 2010 awakened the appetite for the debut album.
Now finally the waiting has an end, because Cyclone Empire released 40 WATT SUN's first record at the beginning of March 2011. One thing is certain: 40 WATT SUN is not a continuation of Warning, even if Patrick Walker's vocals logically are reminiscent of his former band. A further parallel to Warning is the strong emotional depth and intensity of 'The Inside Room', but otherwise 40 WATT SUN is something else. This begins with the guitar. Instead of unpacking one powerchord after the other, Patrick Walker coaxes a mulitude of tones, riffs and timbres from his instrument. The result is an impenetrable distorted carpet of sounds that is like a kaleidoscope without taking from the heartfelt melodies. A good example is 'Open My Eyes', which clearly shows that the new concept works very well. Another difference to Warning is that the entire sound of 40 WATT SUN is more dynamic. Reason for that is drummer Christian Leitch who fills each of the included five tracks (the limited double-vinyl edition will contain the exclusive bonus track 'Take Me In') with small fill ins and rolls so that boredom is banished.
But Patrick Walker's expressive vocal style as well as the beautiful vocal lines are definitely the icing on the cake. Basically, he's not the most interesting singer in the world, but his phrasing and intonation are world-class. 'Carry Me Home' and 'This Alone' are especially impressive and whenever I listen to this songs, I feel like a piece of melting candle wax that lies near an open fire. This album cuts deep into your soul, but the resulting effect brings relief instead of pain. And that's why it's so important that the songs mostly need an exceptionally long playing time, because only this approach ensures that they unfold their impact on the listener. It is safe to say that at present there is no other band around that sounds like 40 WATT SUN. 'The Inside Room' is not for everyone, but those who have a strong affectation for melancholic and deeply touching music should add this album to their shopping list. For my part, I'm delighted by 40 WATT SUN.
(KK)