July 2011 - INCREDIBLE HOG
Of all the less-known heavy bands from the early 1970's, INCREDIBLE HOG remains one of my favourite groups. Their only full-length record 'Volume 1' is a powerful masterpiece of raw blues-driven heavy rock. INCREDIBLE HOG are loud and their riffs are chunky and drop like a hammer. There are no pseudo-progressive noodlings and the songs are straight in your face. Having in mind all of the accomplishments, it's the more sad that apparently nobody seemed to care about this great band. At least that was my impression 20 years ago. But fortunately things have changed for the better due to the greatly increased interest in 1970's heavy rock and riff-based rock in general. INCREDIBLE HOG have also noted this so it's no wonder that the band re-united which also led to a performance at this years Roadburn Festival. In addition, Rise Above Relics has released an excellent re-issue of 'Volume 1' in 2011, which leaves hardly a wish unfulfilled with its unreleased demo cuts. For me as a huge fan of INCREDIBLE HOG, it was about time to do an interview with guitarist/vocalist Ken Gordon. You can probably not imagine what it means to me, because for almost 20 years I was waiting for this moment. Due to this reason, it's an extremely in-depth interview and I hope you like it. Thanks to Lee Dorian for the support.
Hey Ken, it is an honour and pleasure for me to do an interview with you. I never thought this would happen, but fortunately I was wrong. So, let's get into the time machine and let's stop in the very early 1970s. If my information is correct, you and bassist Jim Holmes played together in a band named SPEED AUCTION, before you formed INCREDIBLE HOG. Please, tell me more about SPEED AUCTION. When was the band founded and what kind of music did you play?
The classic Rock band "How-we-got-together-at-school" cliché; I was 18 and still at school when I first bought a guitar in 1968 and joined up with fellow students Jim Holmes (Bass), Alan Drew (Drums) and Barry McGee (Guitar) to form Speed Auction. We were all self-taught and musically illiterate! We covered classic Rhythm n' Blues standards played by most of the British Blues Boom bands of the time. Songs by Muddy Waters ('Got My Mojo Workin' & 'Catfish Blues'), Sonny Boy Williamson 2nd ('Checkin' Up On My Baby' & 'Help Me'), Chuck Berry, the obligatory 'Johnny B. Goode' and I recall an original song called the 'Tin-Man'! Fleetwood Mac's 'Long Grey Mare' and The Yardbirds 'Over Under Sideways Down'! We really cut our musical teeth by endless jamming around 12 Bar Blues songs!
How would you describe the music scene in London at the time when you played under the name SPEED AUCTION? Was it easy for you to get gigs?
Speed Auction hustled for gigs in local schools and community centres learning our trade for the next 18 months, until we finished school. Speed Auction gigged at the legendary Bottleneck Blues Club in Stratford, East London with Sam Apple Pie and John Walden's Blues Workshop. The dream for all new bands would have been to play at the Mecca of the growing underground Blues/Rock scene, the legendary Marquee Club in London's Wardour Street! That's where the Who and the Rolling Stones found fame! It was a stepping stone for many of the now iconic Rock and Prog Rock bands still performing today! But Speed Auction was still school kids and worshippers at the new altar of Rock music.
The thermometer for all contemporary music was the Pop chart, it was a sociological guide to teenage culture; even recordings by the new bubbling Underground scene would sneak into the Top 40 like Cream, Jimi Hendrix, the Who and the Yardbirds! The charts polarised popular music taste of the time and acted as the only mirror of popular music culture in the late 60's. Don't forget this was the analogue age, you had to play to be seen or heard if you were an unknown act! We still had monochrome TV with only 3 mainstream conventional channels. The underground scene survived with the support of the Rock clubs and pirate radio (John Peel) stations. The alternate music press was the internet of the day. The Melody Maker was the Rock bible for the alternate underground scene, if you didn't appear in their hallowed pages you were anonymous.
Teenage identity was dictated by the musical cloak that you adopted. You were either a Mod who followed Soul music, early Who and Tamla Motown; a Rocker who followed the Rolling Stones, Fleetwood Mac and American R'n'B, or a Hippie into bands such as the Doors, Pink Floyd, Bob Dylan and the Byrds! Live music was ubiquitous, everywhere in pubs, clubs and the emerging free concerts in parks and fields. It was an amazing time to live in with the explosion of new sub-cultures in music, a fertile cocktail being brewed of Blues, Heavy Rock, R'n'B, Rock 'n' Roll, Folk music and Psychedelic music all planting the seeds and the platform for the different music genres of today! We would watch many of the iconic bands of Rock music for peanuts in our local rock pub!
When did you decide to form INCREDIBLE HOG and what was the reason for you to close the SPEED AUCTION chapter?
In 1968/69 the band members of Speed Auction had finished their school studies and went their separate ways into work. But for me it had been my musical baptism and my first step into premature musical oblivion! In 1970 Barry McGee took up a career in banking and we reformed as a power rock trio which was effectively the birth of the not so incredible Hog! We were christened originally under the name of Monolith and again gigged at the legendary Bottleneck Blues Club by coincidence with Sam Apple Pie!
What were your musical influences?
My father was the lead violinist with the Leeds Philharmonic and a great Operatic Tenor who gave up his musical career to raise a family; he became a part-time music teacher and a reluctant lecturer in Mechanical Engineering. My mother was a gentle nurse who flirted with Chopin on the piano. So my early influences were Puccini, Verdi, Chopin, Sibelius and all the great Classical Romantic composers. My secret (we were not allowed to listen to pop music in the 50's) Pop music influences were the usual suspects, Elvis Presley, Buddy Holly, Everly Brothers, the Shadows and the incomparable Beatles.
I was a massive fan of most early 60's American Pop music and would religiously listen to Radio Luxembourg to learn the Top 40 Charts of by heart! My Blues/Rock influences from the British Blues Boom 60's era were numerous including John Mayall & the Bluesbreakers, Peter Green's Fleetwood Mac, the Yardbirds, Savoy Brown, Jimi Hendrix, and of course the Godfathers of the heavy rock trio Cream! My biggest influence was probably my hero Rory Gallagher and the late 60's mystical universe of the Psychedelic world of the Underground!
I think that INCREDIBLE HOG was a great choice for a band name. Have you been influenced by the Earth-7840's version of the Hulk?
No! In fact I have only recently discovered that the Incredible Hog was a brief Marvel Comic creation. Jim and I dispute the origin of the name because we were originally just plain old Hog! I seem to recall spoofing the name from the iconic Incredible Hulk Marvel Comic creation of Stan Lee!
Where and when did you meet drummer Tony Awin?
After Speed Auction, Jim joined a short lived Jazz-Rock band and the drummer was Tony; they cannot remember the band name.
'Volume 1' has been released by Dart Records in 1973. How did you get together with the record label?
The answer is a well documented story and with some embarrassment, I quote: "A determined Ken Gordon then marched into the offices of Dart Records and refused to leave until someone had listened to his band's demo tape. After waiting all day, and having been threatened with ejection by the police, he managed to get the tape heard and within two weeks, INCREDIBLE HOG were signed by the label!" (Source: www.alexgitlin.com/ih.html)
Each of the ten tracks on the record has been written by you. So I think it's safe to say that you've been the creative leader of INCREDIBLE HOG. How did that come about?
More by accident than design; when Speed Auction formed none of the other members were vocalists or writers at the time, so although I wanted to concentrate on guitar I found myself with the lead vocal responsibilities! When I taught myself my first 3 guitar chords, I had discovered that I could write and sing naturally, so it was probably an inevitable transition for me to adopt this role in my first original band.
I am an emotive and intuitive writer and for me composition is an instinctive "stream of consciousness" process; I cannot compose at will, so as my songs are very personal I found it difficult to collaborate with other writers, because I couldn't share the emotional journey of the song with them in the creative process! In fact most of the lyrics on 'Volume 1' were first drafts; hence the absence of rhyming couplets in 'Burnout', the re-discovered demo included on the on the re-packaged re-issue. In rehearsal Jim and Tony would contribute to the arrangement of the songs if the first draft didn't work.
For my taste, 'Volume 1' has a real powerful sound. It's heavy and natural. How many days (or hours) have you spent in the studio and how was it to work with producer Roger Watson?
The band was very disappointed generally with the recording process! I was not allowed to turn my Marshall 100 watt amp to full volume, which I needed in order to create a powerful distorted sound (we didn't have "Master Volume" in those days), so I was constantly struggling to find enough guitar sustain. I was also in a separate sound booth from Jim and Tony and I was unable to make eye-contact to give them their cues; hence the uneven musical arrangements of the recordings. This is quite evident in the solo of 'Warning' where I gave up during the solo and even ignored a musical error allowing it to remain on the final mix! In fact we were all very disappointed with our sound and felt that it only captured half of our power that we attained in live performance.
The album took about 10 random days over a period of several weeks to record; this was because we were using the downtime of a former cabaret singer Paul Raven who had changed his name to Gary Glitter! We were amused to find his stickers everywhere even under the toilet seat in the studio! As far as we knew, Roger Watson was not very empathetic to our music or the Heavy Rock genre in general. In fact he had just completed the recording of Scaffolds (a Comic/Poet novelty band) album 'Fresh Liver'; but it now seems that history has exonerated him!
You've used some sound samples on the album ranging from machine gun fire over air-raid sirens to a bomb blast. Today, it would be nothing special but it was very unusual in the early 1970s. Who came up with the idea for that?
The credit must go to our producer Roger Watson and our sound engineer Trevor Vallis who had the imagination to find an inspirational sound effect by studying the lyrics! Sorry to disappoint any Incredible Hog devotee's but we were actually opposed to the FX; in fact I remember storming out of the studio when I heard the baby on the mix of 'Tadpole' in abject horror and dismay! We believed that we were simply an "in your face- no nonsense-don't take any prisoners-blood, sweat, piss and tears, spit and sawdust" archetypal rock/blues band of the time. I thought the FX had simply been added to dress up what the producer considered to be a third rate heavy rock trio typical of many of the time! But now on reflection I realise that we did not understand what this creative mismatch had given birth too!
Unlike many other blues rock bands at that point in time, INCREDIBLE HOG tended to be more aggressive. There are metallic and punky undertones and song titles as, for example 'Wreck My Soul', 'Execution' or 'Losing Myself' bear witness to a pessimistic outlook. I can well imagine that you did not have much in common with the slowly dying hippie fashion of the 1960s. To be honest, I think that 'Volume 1' sounds as if it was born in a working-class district where violence and poverty was the order of the day. Can you agree with me and what motivated you? Did you feel like outcasts of society? Please, describe your life circumstances at that time.
Yes I can definitely agree with you! I was most certainly treated like an outcast! I was born one of a set of male twins in Cheltenham, Gloucestershire in 1950, into a poor middle-class family. Unfortunately in 1954 my family was separated as my mother a nurse was placed into a sanatorium with Tuberculosis and was not expected to survive. I was put into a children's home with my twin in Winchester, Hampshire and my elder brother was sent to our grandparents in Aberdeen, Scotland, whilst our father had to continue with his teaching. I only remember that the home was like something from the Mervyn Peake trilogy ('Gormenghast') with barred windows, very strict matrons, and a terrifying black dog that never stopped barking and the mournful sobs of my twin and other children as we pined for our mother. We were delivered in a black taxi by my uncle Ray (A gifted violinist and pianist who worked for the Palm Court Orchestra, Geraldo and Max Jaffa) with my father.
For some reason I also remember a chilling announcement on the car radio of the execution by hanging of a prisoner at Winchester gaol just as we pulled up to the huge black iron gates of our new prison! How I remember this moment at such a tender age is a mystery to me, but I know I was absolutely terrified, even though I had no concept of death! By some miracle my mother survived and we relocated to South Ham, in Hampshire, a farming area near a market town called Basingstoke and Old Basing Castle, where Cromwell slaughtered hundreds of Royalists, who were buried beneath the castle. Although our father had his own home in Weybridge Surrey where he was now a lecturer at Brooklands Technical College (near the famous motor racing track) we had a happy loving childhood playing in the local fields, farms and woodlands; for us it was like living in a dream world. Nearby in Winklebury was a beautiful bluebell wood and I can still remember in 1960 playing Cowboys and Indians with my mud splattered friends. One of them was holding a magic box! It was called a transistor radio! I'd never seen one before!
From this tiny hand held radio was the most magical sound I had ever heard; it was an electric guitar dripping with echo and the song was called 'Apache' by the Shadows! I was spellbound from that moment on! On October the 12th, 1962 the family entered into Hell! We moved from South Ham in the beautiful Hampshire countryside too the industrialised overcrowded dirty rough streets of West Ham, in the East End of London. Our dream was about to turn into a nightmare! The social landscape of the East End had been cultivated by a long term mixture of an international hotchpotch of criminals from all over the world (seeking secret refuge on arrival at the gargantuan East-End Docks) with the ordinary indigenous poverty stricken working class Cockneys!
During the 19th and 20th Century the East End was notorious for it's poverty, disease, violence, immorality, overcrowding and cultural decay; it was the perfect fertile breeding ground for generating brutal and hostile criminal gangs; an obvious example would be the infamous Kray twins who ruled most of London through intimidation torture and violence and even threatened to destabilise the Tory and Labour Governments in the early 1960's! They were controversially imprisoned in 1968 for murder, where they have both died. Conversely the strong indestructible family values of the Cockneys demonstrated during the war inspired the ordinary people of the United Kingdom as they rallied in defence of their home and country. So there was this fascinating dichotomy of dual-morality and enduring concoction of social conflict that is still evident today with teenage gang warfare and murder on the streets of London! I will die for my family, but kill anyone to feed them!
In 1962 I stepped reluctantly into this strange brew of an alien conflicting East End world as a timid naive confused middle-class boy. My twin and I were beaten, bullied and subjected to the horrors of the violent East End for many years and even though we learned to adapt we still bear the psychological scars to this very day! On reflection and as you have pointed I'm sure that this experience would have inspired many of the songs, because I felt vulnerable, alienated and became a "loner" who had to create his own mythical world in order to survive. As a young man my first I found myself trapped in an unhappy volatile, catastrophic, but oddly loving relationship, I suppose one can see now that this was reflected in the naive lyrics of the songs!
Yet, I think they unwittingly employ apocalyptic/metaphysical themes as a metaphor for a terminally ill disastrous, damaging and almost fatal love affair! I think this is probably evident in 'Tadpole' and both 'Wreck My Soul' and 'Losing Myself' but I don't know where 'Execution' came from and to this day I cannot understand the ambiguous lyric; but it was my favourite track on the album. Incidentally 'There's a Man' is related to my own experience of being a victim of unreported sexual abuse; I think it's probably an attempt to understand the mind of a psychopathic rapist! One has to consider that this collection of songs was written during the period from 1969 to 1973! It's nearly 40 years ago for me and hard for me to recall specific moments in my life at that time! I was also a heavy dope smoker misusing prescription drugs and generally living the life of a vagabond, so some periods of the early 70's are blurred!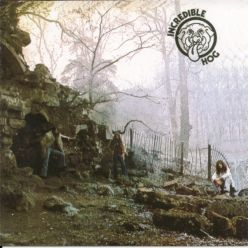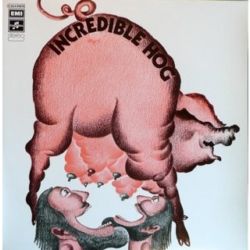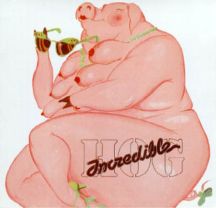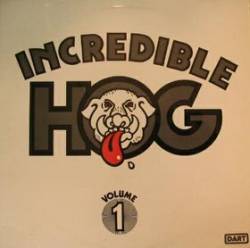 How is it that the record has been available with four different cover artworks (which depends on the country where the record has been released)? How much influence did you have on the design and did you ever run into trouble with the law due to the artwork of the French and German pressing?
As far as I know in the early 1970's in the United Kingdom it was legal for a recording company to not only produce the artiste, but to also manage them, thus generating a subsequent management commission from any royalty payments they had already paid to the artiste from their work! It was also an accepted practice for the recording company to sell/license the artistes Master recording to any other bidders for a one-off payment! The artist would only receive an insignificant royalty from any profit from physical sales in this kind of agreement.
You probably know that a famous example of this malpractice was with UFO's debut album 'UFO 1' which went to No.1 in Japan after being "sold" by Beacon Records, a small independent label like Dart Records leaving the band still penniless! The Incredible Hog album was sold at the Midem Music business Festival in Cairns, France to numerous recording companies who then assumed artistic control which included their own sleeve designs; consequently the different covers! The infamous E.M.I "Neanderthal" sleeve as far as we know was banned for being obscene in France and most definitely finished any prospective career in that territory! We had no influence whatsoever on the sleeve designs and I don't recall any problems with the wonderful debauched German Telefunken edition!
What was the reaction when it first came out? Did you receive a good feedback from music magazines?
Certainly not! I think that they didn't know if it was Glam-Rock, Pop, or simply rubbish! Maybe they didn't know where to place us! I always felt like we were the lepers of the rock world and always had the feeling of "being on the outside looking in" and we never felt accepted by our more illustrious Rock contemporaries or the Pop music world! We received hardly any Radio-Play at the time and were ostracised by Mainstream Radio but not accepted by the alternate Underground Stations either? The BBC's flagship radio station Radio 1 had to play legitimate new releases, and 'Lame' had its obligatory debut on the Tony Blackburn (an icon of safe mainstream conservative and conventional pop music) Show; his response was "That's a strange one!" and probably polarised the indifference towards our single as it rapidly limped into obscurity. We were not consciously a reactionary band and probably apolitical without any sophisticated agenda; but definitely empathetic toward the humanitarian philosophy of the Hippie culture imported into America by the German migration in the early 20th Century, with their innovative Heath Stores!
Apart from the album there are two 7"'s which both include 'Lame' on the A-Side. On the German Telefunken pressing there's 'Warning' on the B-side while the UK pressing on Dart Records has 'Tadpole' on the flipside. Are there any other INCREDIBLE HOG singles?
None that I am aware of!
Somewhere I have read that you had your own club, The Pig Sty. Is that true, and if so, what was it for a club? Are there any exciting stories that you can remember?
You know we couldn't get enough gigs; even back then there seemed to be an invisible circle for the rock elite that was controlled by an unseen sinister force! Oddly the most exciting and amusing event for me was, again I quote from the Lee Dorian's interview: "The capacity of the original venue was around 200-300" remembers Ken, "it was a big room above the pub. We had some great nights there. I remember one time when the keyboard player Mo Bacon from the Love Affair showed with his band for a sound check. The landlord's humongous Alsatian dog had kindly left a putrid Mount Everest pile of shit in the centre of the stage; so a disgruntled Mo and his band refused to play and promptly left the building with their noses in the air!"
Of course you were only as good as your management, and often you got the management you deserved! So if you didn't have major players backing you then you were inviting a difficult struggle along your journey. Our solution was to "Take the mountain to Mohammed"; if the clubs wouldn't book us, then we would create our own, and let other acts come to us! Our industrious bass player Jim Holmes was instrumental in realising our cunning little plan and it worked! We simply hired a room above a public house in Ilford, Essex (The General Havelock and The Railway Tavern in Forest Gate, East London) and booked bands in a similar situation to ourselves. It was very exciting as we witnessed the groundswell of arguably what was to become the Metal, of today.
What happened after the release of 'Volume 1'? Did you play a lot of shows and were there any plans for a tour outside of England?
I think this is probably answered in the last question; we simply did not have the support system or infrastructure to capitalise on the release of our eponymous album! In fact our personal disappointment with the album and the generally indifferent reviews only added to the gloomy dark world of the not so Incredible Hog! A positive footnote came after I had left the band when I received a telegram informing me that we had entered the Pop charts in Germany with 'Lame' limping in again at No. 37! We also had an informal offer of a tour with another of our heroes Thin Lizzy who were also in the charts with the magnificent 'The Rocker'! Sadly I had already departed and the whole situation was by then irresolvable.
What bands have played with you?
Well, we rarely headlined; but we did support many acts that were to go on and experience global recognition and they included Thin Lizzy (our stable mates on Telefunken in Germany), Status Quo, Supertramp, Stealers Wheel, Judas Priest, Clear Blue Sky (both in our Pig Sty Club), Sam Apple Pie and Skid Row with a young teenage gunslinger who blew us all away called Gary Moore (R.I.P.)!
How was the support from Dart Records? Did they treat you fairly or have you been ripped off like many other bands in the 1970s? Have you ever been informed about the sales figure of the album?
Well due to my voluntary but unwanted premature departure from the band I'm not very knowledgeable about this question. I will always feel indebted to Dart Records who were one of the first small independent labels in the U.K. Their managing directors Tim Satchell and sadly the late Clive Stanhope took a huge risk signing a non-commercial unknown heavy rock trio at the time, and quite frankly we were ecstatic just to be signed! My sudden and unexpected departure caused great problems and I think the investment they lost on Incredible Hog led to their eventual demise! So in this context I cannot make any negative comments about them.
I still think it is a pity that INCREDIBLE HOG released only one album, particularly because the demo that you've recorded after 'Volume 1' is absolutely great. Why is it that the band broke up after a short time? Have you been frustrated about the situation of the band or did you lose interest in playing music?
Being the quixotic front man of the band I managed to fall upon my own sword! I left the band and (leaving out the gory unprintable details) due to my personal and medical problems, and naively felt that I had no choice at the time! On reflection as an older human being with the knowledge that I have now I think it could have been avoided. But we will never know will we? We are gob smacked by the interest in us now and we have to eternally thank our supporters out there who have brought us back with populist people power! I had a lot of disappointments with other name bands where I was either told I didn't fit or I wasn't good enough! In retrospect I think I only fitted into the Incredible Hog, but it's taken nearly 40 years to learn!
What is your personal bottom line of the early years with the band? Is there anything you regret?
They were undoubtedly the best and some of the worst days of my distorted miss-spent youth! We always think of the good times when we look back, but tend not to remember the bad ones, don't we? But as Oscar Wilde said, "Youth is wasted on the young!" In retrospect I should really now take a Buddhist approach to the end of Incredible Hog, but being human it would be disingenuous of me if I didn't confess that there has not been a day that has gone by that I have not regretted making the decision to leave in the circumstances that I regrettably did so!
Over the years there have been some reissues of your album. I guess the first one was from Repertoire Records in 1994, which also include the 'Lame'/'Warning' 7". What I always wanted to know: Is it an official reissue, and if so, how did you get in contact with Repertoire Records? Did they use the original master tapes?
Repertoire Records CD is as far as I know the only other official release out there; they kindly contacted us directly and we felt that they did an excellent job with the booklet and artwork. However the master tapes had disappeared a long time before when President Records assumed Dart Records catalogue! As far as we know they copied from a vinyl disc; in fact if you listen closely they managed to lose the three octave accidental echo at the end of 'Lame' and clip the intro of 'Wreck My Soul'; I'm happy to report that Lee Dorian has restored the original recordings for the Rise Above Records re-package.
What do you think about the crappy CD bootlegs of 'Volume 1'? Have you ever thought about taking legal action against the record labels?
We were surprised that anyone would even want a copy in any form. However it is frustrating when they are poor CDR/Vinyl copies as the quality of them is an insult to the unwitting buyers. I have made enquiries about prohibiting them but it is a complex legal minefield with numerous clauses relating to where the actual discs are pressed, the year that they were pressed, and the copyright laws in the country of origin, etcetera, and etcetera! Yet, ironically one could argue that they also attracted interest in the band. If the perpetrators had any integrity and understood the personal sacrifices and the amount of work that goes into making an album and how little fiscal, (if any) reward bands of the status of Incredible Hog received they would be ashamed! Unfortunately in a Western Capitalist economy acts have to receive some kind of recompense in order to survive and fund any demand for more recordings.
That brings us to the question: How did the contact to Rise Above Records come about? I think that is the ultimate re-release of 'Volume 1'. For me as a huge fan of INCREDIBLE HOG it's like a wet dream, especially because of the previously unreleased demo. How long did you work on the re-release and which source have you used for the album (master tapes or vinyl)?
Thankfully Lee Dorian of Rise Above Records contacted us through President Records. Unfortunately the master tapes have never been recovered, but Jim told me that the new re-issue was sourced from a good quality CD and vinyl copy. So although there is effectively no re-mix they have digitally equalised and enhanced the recordings to match the two formats.
What do you think about 'Volume 1' today?
It's very difficult to be objective about one's own work, but in retrospect after having to analyse and learn the songs for the Borderline and Roadburn Festival performances, I was surprised and perplexed, especially by the lyrics!
I'm not sure that I understand them. It's enigmatic, deceptively simple and even eclectic! Sometimes I think it's the poor ramblings of a neurotic self-centred fantasist and yet on another listen that it's quite unique! There are out of tune vocals and guitars, with poor time-keeping, but from a holistic viewpoint the emotional sincerity is intact and the love, raw energy and commitment of the band makes it a great snapshot of a young rock trio of the time still in its infancy! I honestly don't know, I think you should consult a musicologist, they might know, after all their experts, aren't they?
Are there any other unreleased 1970s recordings (live or studio) of INCREDIBLE HOG? As you can imagine, the four demo songs watered my mouth.
There were the demo's that we recorded in Gooseberry Studios, Gerrard Street in London's Chinatown, after a chance meeting with an American Recording Studio engineer in Damn Square in Holland at the height of the Hippie rising in 1970! I should have been at the Isle of Wight Festival with my friend Robert Millar who was the drummer with Supertramp! He promised to introduce me to Jimi Hendrix! But thank goodness I went to Holland with Jim Holmes because it led to our first deal and demo with Dart Records! Serendipity! We also recorded a pretty awful demo in 1972 at Venus Studios in Whitechapel Road in London as a snapshot of the songs for Dart Records! Somewhere there is an inferior BBC recording of our audition for eligibility for their live broadcasts, which we surprisingly passed! I had written a second album but sadly the tapes were destroyed!
I was surprised about the reunion. How did that come about?
Yes! I was surprised too! I was about to become a Drama Teacher! Lee Dorian gently planted the thought in my head as we strolled along the Holloway Rd with Jim! My mind was eventually made up when Tony Awin, whom we had not seen for years indicated that he would re-join; but still with some reservations like myself.
Keith Kelsey is the new drummer in the line-up. Where did you find him and what happened to original drummer Tony Awin? Did he return to South Africa?
We waited in vain for Tony's return but due to his poor health and family commitments he finally had to pull out earlier this year. When rehearsals finally commenced we used Alex Sidorov who worked as our Sound FX engineer just to see if we were still capable? We were really lucky when we started serious rehearsals as Lee Dorian persuaded Andy Prestidge of Angel Witch to step in to the drum seat and nurse us through initial rehearsals until we were able to stabilise the band-enter Keith! Jim had been working with Keith in his Pub/Rock/Festivals covers band the Bash Street Band for more than 20 years! A massive bonus for us was that he was also a lead Rock vocalist able to cover the harmonies on the original album, so this was a real plus for the Incredible Hog!
What were your feelings when you entered the rehearsal room after almost thirty years? And what about your performance at this years Roadburn festival? Tell us something about it.
The first rehearsal was a mixed cocktail for me! The buried pain of regret, excitement and some trepidation, I didn't know if I could still play or sing this kind of music anymore and being egocentric I was concerned about how I would respond psychologically; I'd fallen out of love with Rock music back in the 1970's and had lost my singing voice back in 2003, after touring in the Dusty Springfield Musical! More recently I had been writing for Music in Theatre and for a kitsch retro-hippie pop-band! This environment was probably not the ideal musical backdrop for a reincarnation of the Incredible Hog! I found a solution by treating the whole process as an acting job! This allowed me to detach myself in order to learn all the mechanicals elements in rehearsal! Rehearsals were very tough because I struggled to hit the vocal notes and kept getting cramp in my rusty old fingers. It didn't help when I contracted Pneumonia which meant we lost several weeks of practice! It's almost 40 years; you know I left in 1973!
For the gigs I had to be like a machine & get through what we call in acting a mechanical performance; that is one where you manage to remember all the chords, the lyrics, the lead and rhythm guitar parts and that the harmonica is in my back pocket. It's like knowing all the parts of a car work in a garage, but it doesn't come to life until you put gas in it! We were under-rehearsed & with only one great gig behind us at the Borderline. To attain a well oiled live performance you need to gig for a long time so that you develop a kind of telepathy with each other, it took the original band two years to achieve that level. I had to buy a Gibson SG Special to try and replicate the sound on the album, but because we detuned by a half-note I suffered massive tuning problems especially when I employed the primitive Bigsby tremolo unit! At both the Borderline Club and Roadburn Festival performances we were shocked by our reception! The audience actually knew the songs and lyrics! It was an amazing experience! We were privileged to be playing with two great bands that would grace any stage, The Gentlemans Pistols and Admiral Sir Cloudsley Shovell. They were so good and we were surprised and flattered that they were familiar with the Incredible Hog!
You know we really wanted to perform as an early 70's Classic Rock trio without hidden musicians or the use of Click Tracks so that we could recreate our raw "warts and all" live sound! However we had lots of requests to perform 'Execution', which did not work without the acoustic guitar as a trio at the Borderline and Roadburn gigs and so with the help and approval of Lee Dorian we persuaded 17 year old Daria Sidorova to play acoustic guitar on 'Execution' and cowbell on 'Another Time' so that we were able to perform the songs at our comeback gigs! By the way at Roadburn my guitar dramatically slipped way out of tune during 'There's A Man', so I had to employ massive feedback and control the tuning with the tremolo arm! Phew! I was secretly panicking and had to switch to the Gibson Les Paul, but I couldn't bend the strings so much or control any feedback because it had no tremolo unit attached. But we survived and overwhelmed by the whole experience. I (we) can never forget the Incredible Hog fans who have brought us back!
Are there any plans for a new record?
It has been suggested, but I think we have to wait and see how Incredible Hog 'Volume 1 + 4' is received!
You have started an acting career after the end of INCREDIBLE HOG in the 1970s? If so, where have you appeared and what led to it?
By 1976 I was a father of 2 children, and had another son in my second marriage in 1983. Any thoughts of a music career had long dissipated and my only concern was to simply pay the bills and support the kids. However after another painful and messy divorce and the death of my beloved mother in 1983 I made the decision to pursue an acting career! I gained a diploma in Musical Theatre & Acting at the Mountview Academy in London and more recently a First Class Honours (BA) Degree in theatre at Surrey University/Guildford School of Acting. Unfortunately I was not allowed to use my real name so my acting agent christened me as GORDON KENNEY www.uk.castingcallpro.com/view.php?uid=70865
I toured in several No.1 musicals and appeared in London's West End in (Cliff - The Musical) 2003 playing one of my early heroes Bruce Welch (rhythm guitarist and writer/producer for Cliff Richard & The Shadows) and even in Andrew Lloyd Webber's Aspects of Love! (1997). I also played Carlos Latino in 'East Enders' for the BBC (2000) & much more! More recently I have stopped working because of poor health! So there I was at 60 years of age armed with my bits of paper and about to disappear into the sunset smelling of formaldehyde as I prepare to take up a Drama Teaching career. Then! Suddenly out of nowhere my old friend a hungry Incredible Hog shuffles back from the Pig Sty into my life demanding a quick resuscitation. So anyone who feels it's all over? Well that old cliché "you never know what's around the corner" is true! My fiancée is always reminding me that - If something has wings, it will fly - anyway! You don't have to push it!
Ken, I'm so grateful that you took the time to answer all of my questions. For me personally a dream came true. I think that I could've asked your more questions, but then there's no end to find. I wish you good health and all the best! If there's anything you would like to add, please feel free to do it.
No problem, I found this process to be quite cathartic, almost a confession and it helped me too. Don't forget without people like you, Hog would still be forgotten. I won't apologise for the length of my reply; your questions are really intelligent and thought provoking! You may want to edit my response, I was going to because there are some very personal issues, which I have never discussed in Hog interviews so I really have to trust your judgement with any editing! Obviously I have barely scratched the surface here, but have answered truthfully. Some of my replies are extracts from a veiled autobiography that I am working on which explains their longevity!
(KK)