INCREDIBLE HOG (Volume 1 + 4) CD/LP + 10"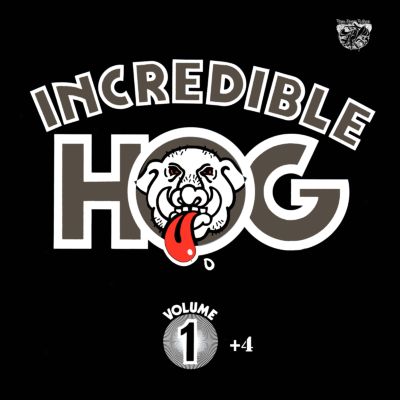 It was in the early 1990's when I started to discover the less-known heavy bands from the 1970's. I was already familiar with groups as, for example, Sir Lord Baltimore, Captain Beyond, Buffalo, Night Sun and Blues Creation, but I know that there was much more to explore in the underground. On one day, a good friend of mine introduced me to an English band named INCREDIBLE HOG. He had the German pressing of their only album, released by Telefunken in 1973, and before I had the chance to listen to that record, I felt attracted by the whimsical cover artwork. In contrast to the UK pressing, that artwork was more controversial as well as the one of the French pressing. The best, though, is yet to come. When he put the needle on the record, I was immediately struck by the powerful and hard rockin' blues of the opening track 'Lame'. That was exactly the stuff I was looking for. Raw, heavy and mean. But not only 'Lame' blew me off my socks. The whole record has virtually electrified me.
Needless to say that I was a happy man when I found an original UK vinyl press a few months later at a record fair and even after twenty years 'Volume 1' is still one of my favourite heavy albums from the early 1970's. Or, in more exact terms: I LOVE IT! You might wonder why this is the case, and therefore at this place I would like to give a few words of explanation. If was typical for that time, that the good old blues dominated the sound of almost each heavy rock band, but INCREDIBLE HOG delivered their version with a significantly harder edge than most of the other bands. And that is true for most tracks on 'Volume 1'. While some other less-known bands only included one or two heavy tracks on their records, INCREDIBLE HOG went the whole hog. In doing this, they were following in the footsteps of brutal blues bands such as Creepy John Thomas or Stack Waddy. Among the ten tracks of 'Volume 1' there are only three calmer tunes ('Execution', 'Walk The Road', 'Losing Myself') that are going more into a folk blues direction. And even here, INCREDIBLE HOG do not show any signs of weakness. These are sad, emotional, and heartfelt songs which respond great to the heavy guitar assault of the other tunes.
It is furthermore noticeable that INCREDIBLE HOG had a preference for simply structured songs - just as their musical forefathers Howlin' Wolf, Blind Willie Johnson or Lightnin' Hopkins. But we should not conclude from that that Ken Gordon (guitar / harmonica / lead vocals), Jim Holmes (bass) and Tony Awin (drums) could not control their instruments. INCREDIBLE HOG plays energetic and tight and the clear vocals of Ken Gordon forms a nice contrast to the subliminal aggressive sound. Furthermore it's obvious that he has talent, leading to the fact that his expressive style is one of the band's trademarks. In conjunction with his strong guitar work, the band proves impressively what it means to be a power trio. In addition, it was rather uncommon for heavy rock bands to integrate samples into their songs, but in true pioneering spirit and a clear sense of aesthetics, INCREDIBLE HOG were successful. Last but not least, these guys were good songwriters so that 'Volume 1' is packed with remarkably strong songs. Not to forget about the killer riffs.
Unfortunately it is not easy to track down an original copy of 'Volume 1' today. As is often the case with rare records, there are a couple of bootleg CD's floating around, but the quality is not always the best. And of course, not everybody can afford the LP, especially because it has increased in value over the last two decades. It is all the more welcome, therefore, that Rise Above Relics have decided to re-release 'Volume 1' in cooperation with INCREDIBLE HOG. Both parties did a very good job on this CD which means that 'Volume 1 + 4' is like a wet dream for INCREDIBLE HOG fans like me. And that is not only because of the highly informative booklet but also with regard to the four bonus tracks. This is a previously unreleased demo that has been recorded in March 1973. These songs were intended for the second album which unfortunately was never released. Actually I found it regrettable that INCREDIBLE HOG only released one album and one 7" in their short-lived career, but after listening to the demo it is really a shame that the band didn't last long enough to enter the studio for a second time.
Mixed and mastered from the original multi-track tapes, these four songs show just how much the band had already moved on in terms of natural feel and stunning energy. They did not accept compromise for the demo recordings, particularly 'Burnout' and 'Going Down' impress me with their raw metallic energy. 'Going Down' was originally recorded by Stan Webb's Chicken Shack (it's on their 1972 record 'Imagination Lady'), and it's my favourite Chicken Shack song, but INCREDIBLE HOG's version has a more aggressive approach. It was a good decision on the part of INCREDIBLE HOG to unearth this demo and I'm pretty sure that fans of the band will love it. Overall, this is a great disc to add to your collection, whether you're an old fan or someone who has recently discovered this almost forgotten band. 'Volume 1' stands a little more on it's own than many other similar albums of the time. It's fat, dirty, and very heavy. Just buy it and crank it up loud!
(KK)
www.myspace.com/incrediblehog73