WYTCHCRAFT (s/t) MCD-R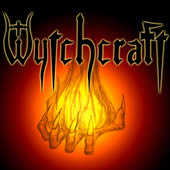 This the first four song demo from the German band WYTCHCRAFT. The songs were recorded in May 1999 and all instruments were played by Patrice Kestner and Daniel Westhide, only the drums are from a computer. But they are very well programmed, so it doesn't sounds too static. Both musicians are inspired by bands like CANDLEMASS, BLACK SABBATH or LEFAY, but there are a lot more influences you can hear. The song structures are very progressive and sometimes with a small Celtic influence. A lot of unexpected breaks and the unique, dreamy out-of-space vocals of Patrice are giving the songs an interesting ambience. All four songs are over five and six minutes long and although the production isn't very powerful and too thin, the songs are interesting enough to keep the CD spinning.
WYTCHCRAFT are also using keyboards and if you into a original mixture of the above mentioned bands and symphonic progessive Metal you should order this CD from Patrice Kestner. The last news about WYTCHCRAFT is that Eric Asmussen, the bass player from TWILIGHT PICTURES , now is part of the line-up. This isn't really the kind of music I prefer, but I must admit that they're a hopeful new German Metal act and with a full line-up and a better production the next release will be outstanding.
(KK)