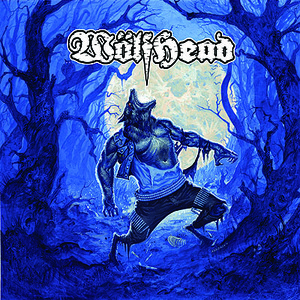 Sometimes I take the new CD's that arrive here and listen to them on my way to the rehearsal room. In this way, my bandmate Markus gets to know new music every now and then as well. When the last promo CD's arrived it was rehearsal day again and so I've thought why not give a few new CD's a spin in the car stereo. Among others I chose Wolfhead's self titled debut for Doomentia Records. Because of the cover artwork, I concluded it was some kind of old school Heavy or Thrash Metal. But I was wrong and were we surprised while sitting in the car and listening to this blend of music. Even if there are a few Metal riffs that make you think of old Metal bands there is way more here. The album starts with 'Journey By The Shaman's Hand', that mixes psychedelic 70s elements, Stoner and even Alternative Rock and something that sounds like Black Metal, but more in the real old and epic way like early Bathory.
This is, for example, also reflected in the overall guitarsound. 'Cul De Sac' starts with a whistling man before swinging into some Motörhead mood. And while you still wonder what that has to do with the first song, all of a sudden a vile Black Metal riff breaks through the Rock 'n' Roll as if it is intended to remind the listener of the Black Metal riffs in the opener. But this only lasts for a few minutes before the song shifts into the Motörhead-gear again. Somehow it works pretty well after a few listening sessions. Nevertheless the quest for diversity continues as 'Sons Of Asgard' starts with some stereotypical spoken word or sample about Thor before an epic song somewhere between Bathory, darker Manowar tracks like 'Bridge Of Death' and Epic Doom can enthuse the humble reviewer with the atmosphere of the first 7 minutes as well as the cool arrangement as the band is not afraid of ending the song with some Wah-induced Stoner moment. On the other hand, 'Doomed Faith' shifts more into a Trouble-like, groovy Doom direction where even singer Ivan, who used to be the vocalist for legendary Spanish doomsters Great Coven, tries to imitate Eric Wagner a little.
Once again, it's no surprise that this song does not just limit itself to that one direction, because the band moves again into Black Metal territories with slight epic undertones just to change into some psychedelic ending again. That fits pretty well with the following track 'Wolfhead' that once again combines psychedelic verses, doomy moments and Black/Thrash Metal parts into a nice song. The CD closes with a cover version of the Pink Floyd classic 'Wish You Were Here', and that idea does not suck. I won't say more about that. Admittedly, it might will take some time to grasp Wolfhead's at times weird appearing mix and probably not everyone will like it, even if you like like most or all ingredients. My major criticism is about the playing time of 37 minutes which is way too short. In all other respects, however, I really found and will find enjoyment in this CD.
(Thorsten Frahling)