WO FAT (Noche Del Chupacabra) LP/CD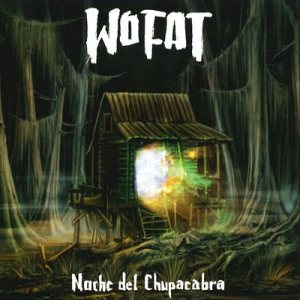 Texas is one of those places that has written music history. Some of the greatest bands were founded there as, for example, The 13th Floor Elevators or ZZ Top just to name a few. Neither should we forget legendary musicians such as Lightnin' Hopkins or Ornette Coleman. And then there are WO FAT. Well ok, it's not fair to place this power trio on the same level, but with their third record 'Noche Del Chupacabra' (released in 2011 through Nasoni Records) they demonstrate once again that they still belong to the créme de la créme of today's heavy rock bands. But above this WO FAT offer more than just the usual 1970s tinged heavy rock. This shows up in the five songs that you can find here. Most of the tracks are packed with breathtaking extended guitar passages what means there there is plenty of room for improvisation and psychotropic guitar solos. Despite this, WO FAT have made sure that their sweaty sound has lost nothing of its powerful punch. The degree of heaviness is superior and the blues endlessly gushes out of the tracks, mixed with splinters of Sabbathian metal and acid rock.
However, the opening track 'Bayou Juju' is barely spectacular but it is immediately noticeable that WO FAT don't try to hide their Texan roots. The grooves remind me of ZZ Top and Kent Stump's vocals own that rough timbre which is necessary for this blues-drenched riff-o-rama. Furthermore he brings out an incredible amount of creativity in his playing. This also applies to bassist Tim Wilson whose thick bass lines form the basis for Kent Stump's sonic excess. But, of course, drummer Michael Walter is equally important because his dynamic and varied playing is a further reason why WO FAT set themselves apart from the average mass of heavy rock bands.
The two following tracks 'Descent Into The Maelstrom' and 'Common Ground' are also based around a straightforward rock approach, but as soon as the guitar has more room to develop WO FAT leave the swamps around Sabine River behind and take off on a breathing flight into psychedelic blues galaxies. But that isn't all: The title track is the masterpiece of this album (please note that the other four tracks are also absolutely great...) and it's the only instrumental track on 'Noche Del Chupacabra'. Michael Walter's playing style is strongly influenced by traditional African drumming, especially at the beginning of this epic track. In the background you can not only hear a Fender Rhodes but also a lot of trippy effects which ensure a pleasant mindblowing climate. Not to forget the crunchy, sludgy riffs! They are like a huge thunderstorm that is moving toward the listener. In spite of all this, the song does not lack the spacey, spicey and soulful psychedelia that characterized the rest of this album. I could go on and on with my enthusiastic ramblings about this fantastic album, but instead I finish this review with only two words: Highly recommendable!
(KK)