WITHOUT GOD (Lambs To The Slaughter) CD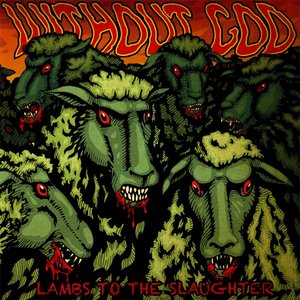 What do you do if you need to sign in a band but it might seem like you are not the next Ronnie James Dio? You need to find other vocalists to influence you. People like Lee Dorian or Kirk Windstein for example. Because guitarist Anton of Without God sounds like these two guys most of the time. The later more than the first. And if you sing like that, it is no wonder that the music of Without God is no retro 70s rock but heavy, sludgy Doom. Opening track 'They Rot' is a damn slow slab of hot led with a bow to Crowbar. 'Believe' then starts with an Ozzy-like Alright Now, that sounds like a bad take of 'Sweet Leaf'. The song itself has a certain Sabbath-edge but reminds more of Electric Wizard's early works, if you get what I mean. In contrast, 'Space Weed' rocks. It rocks like Cathedral did and here Anton makes a very good imitation of Lee Dorian.
The short track 'Homeless' speeds up into a nice Hardcore-riff before it swings into some groovy riffing. Once again it reminds of New Orleans heavy sons Crowbar while 'Forgiveness Sunday' or 'Forever' continue that influence again. Especially the later one sounds so much like Crowbar that it is frightening. But the Russian quartet can not only totally doom out. A little psychedelia has crept in their sound as well. 'Crossroads/Eat The Shit' kicks off all instrumental and without any drums in the first 4+ minutes. The track is a trippy voyage into drug-induced dreams shifting into another sludgy Doom monster. 'Burn In Hell' starts with some kind of heavy Stoner/Doom standard riff before it slows down extremely in the end. 'Altar Of Medicine' brings back the Cathedral influence but without the Rock. This is just a slow and dark piece, a sonic wall at times that overshadows all happiness and puts you into a bad state of mind. No melancholia but sheer despair.
The album ends with a track called 'Faithless'. Pretty fitting for a band named Without God. The track alters between dark and more groovy doom riffing and adds a mellow ending with a soulful lead guitar, perfect to end this album. Maybe you already understood that Without God wear their influences on their sleeves. That does not help to build an own identity but 'Lambs To The Slaughter' is their first album and they are able to write good songs like my album faves 'Believe', 'Forever' or 'Space Weed' and work well with the possibilities of the two guitar line-up. There are no Thin Lizzy double leads but some nice extra spices here and there. The production is heavy as fuck and the artwork is really cool. Instead of a cliché-artwork, the Russians present a cool comic-like drawing with evil looking sheeps, a frightened wolf and Satan as a shepherd. Really nice idea. This is for people who like a good mixture of Sludge and heavy Doom that do not give much of a damn if a band does not sound highly original. Especially Crowbar fans who are tired of listening to the originals albums could find a lot of joy here.
(Thorsten Frahling)
www.myspace.com/withoutgodrussia