WITCHSORROW (God Curse Us) 2LP/CD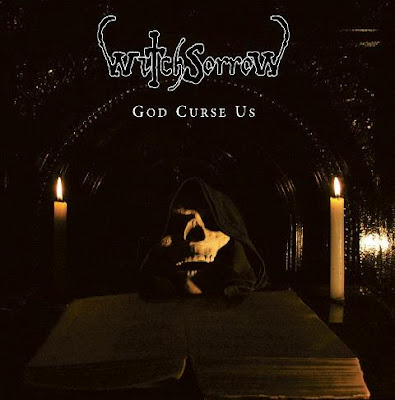 Rise Above Records brings us the second album of Witchsorrow. Absolutely fitting, if we consider that both the label and the band coming from England. If I had to narrow it down, the three piece with the creepy pseudonyms Emily Witch, Necroskull and David Wilbrahammer sounds as if Electric Wizard, Black Sabbath and Venom would have a bastard child. Especially the opening track 'Aurora Atra' shows some similarities to their label mates, but the band adds some riffs of the Black metal pioneers to it as well. With the title track 'God Curse Us', we find Sabbath-y undertones within the Wah-induced main riff while the chorus is slightly catchy and at the end the band picks up pace and changes more into a Metal mode.
On the other hand, the following 9 minutes long 'Masters Of Nothing' cannot really live up to its name. The first 6 minutes are slow and this repetitive song is just something for those that despise anything about 30bpm and rather wallow in despair and darkness. The mid-tempo interlude is not enough to change my mind about that track. This was the master of nothing spectacular at all. Then 'Ab Antiquo', a creepy 2 minutes long instrumental, gives us a short moment of peace. This is the perfect introduction to 'Megiddo' with its calm just bass and drum parts found in between. Most of the time the band concentrates on simple, slow riffing but especially when Witchsorrow allows themselves some faster parts in the song, there is a slight reckless dirt of Venom's early material to find.
The best example is the rather quick and only 4 minutes short 'Breaking The Lore' where the band nearly goes mainstream... compared to the rest of the material. The riff is as easy and unspectacular as it might get nowadays, but the combination of the raw production, the Cronos-like vocals and the doomy parts in the song grade it up. The raw, sometimes muddy production adds to the listening experience. It took me a few spins, but I think the music of Witchsorrow needs this dirty sound. The closing 'Den Of Sperpents' is one of those, I would dare to say, common Doom tunes you hear quite often these days. Slow riffs, displaced by slower riffs, plenty of repetition, all the ingredients are there. Only the second guitar, which plays the riffs two octaves higher as well as a thunderstorm of Wah-Wah sounds and drum fills at the end, prevent the song from becoming boring enough to skip it. Although the album has got some shortcomings, I guess friends of raw, dark Doom will find enough to enjoy 'God Curse Us.'
(Thorsten Frahling)
www.myspace.com/witchsorrowdoom