WINO (Punctuated Equilibrium) LP + 10"/CD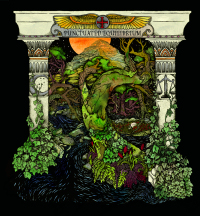 Just like Kelly Carmichael, guitarist of Internal Void/ex-Pentagram, Scott 'Wino' Weinrich is the next musician from the Maryland, DC heavy rock scene who releases his first solo album after the demise of The Hidden Hand. 'Punctuated Equilibrium' is a reflection of Wino's previous work, but it also shows the current position of a man who's playing heavy music since more than 25 years. He invited Clutch drummer Jean Paul Gaster, who also supported Kelly Carmichael and is definitely one of the best drummers from Maryland as well as bassist Jon Blank from Renzin. I know it sounds hollow, but this is the best rhythm section which ever recorded an album together with Wino. No matter, if the songs are more jazzy, funky or whatever, Gaster and Blank are building a strong and tight unit. It's a solid fundament, on which Mr. Weinrich's letting of steam. First I worried that maybe he would record an album full of excessive jazz-driven guitar freak outs, what could've been interesting but if there's one thing I always loved about Wino,too was his talent to write melodies for all eternity, not to forget about his charismatic vocals.
Everyone who loves The Obsessed, Spirit Caravan as well as the period he spent in Saint Vitus and Place Of Skulls will agree. Maybe Wino felt the same, because some of the here included ten songs are saturated with hooks and heavy riffs. The opener 'Release Me' is spreading a 1970's-tinged southern blues vibe, with additional slide guitar and a funky groove while 'Smilin' Road', one of my faves from this album, could've been an unreleased song from 'The Church Within' or 'Jug Fulla Sun'. It's a stunning song with its uplifting mood. In contrast to the more melodic edge of the album, other songs are showing the progressive side of Wino's music. It's no secret that he likes John Coltrane as much as Frank Zappa, and of course both influences have left their traces here, too. A few of the guitar solos are very Zappa-esque, but it's distinctively Wino's signature. 'Wild Blue Yonder' is a driving instrumental song, with a lot of wild guitar excursions, and only one of four instrumental songs. Among this cuts is also 'Gods, Frauds, Neo-Cons and Demagogues', which offers an insight in Wino's political view, but meanwhile it's well-known that he was never a huge fan of George W. Bush. Sadly I can't take a look at the extensive liner notes from Mr. Weinrich himself that also describe the concept of each track, but obviously 'Punctuated Equilibrium' contains different themes, some are personal, some are political while others are more spiritual.
All of us who observed his musical career since the early 80's will know, that this are typical "Wino subjects". At least a few words about the production that is simply mind-blowing. J. Robbins, who also worked together with a lot of bands from Washington DC, did an excellent job. It's a clear, tranparent production which never sounds muddy for a second. Each instrument is at its place and especially the guitar tone is impressive. 'Punctuated Equilibrium' is a soulful album with a very personal note, varied songs, a few surprises and most important a Wino-album through and through. I think, it's better than all what he did with The Hidden Hand, and I hope that he will record a second album under his name. Both, older and newer fans will like this album. The vinyl edition comes with a 10" EP with additional four songs, but the people from Southern Lord Recordings didn't include them on the promo. That's infuriating, but I suppose that these tracks will be as good as the complete record. The album will be in released in January 2009.
(KK)