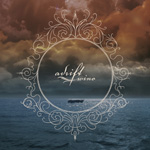 Today there are only a few rock singers out there whose voice is so intense and charismatic that they will leave a lasting impression. For me personally, Scott 'Wino' Weinrich belongs to this minority and this for more than 25 years. Even if I don't welcome everything that he recorded over the past seven years (yes, I mean The Hidden Hand), I never questioned his impressive talent as a guitarist and vocalist. And of course, Spirit Caravan and particularly The Obsessed are an essential part in the history of doom/heavy rock. In addition, one should not forget that he was/is one of the lead singer of Saint Vitus. In view of all that, I've had no doubt when I heard about the plans of Exile On Mainstream Records to release the first acoustic album of Scott 'Wino' Weinrich.
To anticipate: 'Adrift' is an intense and vivid masterpiece and much better than expected. It's a triumphant culmination of everything he has experienced during his career and personal life, but also a journey through life's ups and downs. Yet, precisely for that reason, 'Adrift' is an extremely authentic record, even if it sounds trite. Each song is sung with the emotional depth of feeling that each deserves as none seem rushed or used for filler. As you listen, you will be struck by his pristine playing, his soulful voice, and his poetic songwriting that seems to be so simple at first but reveals deeper secrets upon repeated listening. In some songs Scott 'Wino' Weinrich is supported by producer Ray Tilkens and sometimes an electric guitar emerges, but the primary focus is always on his voice and acoustic guitar. But if you think that 'Adrift' is mainly a peaceful record, you should listen a little closer. 'I Don't Care', 'Old And Alone' or 'Green Speed' are furious rockers that are full of anger and energy. In particular, 'Green Speed' with additional electric guitar is breathtaking. Here you notice immediately that Wino is a child of rock 'n' roll and that he does not deny his roots, but the same also applies to the other two songs.
Hence it is not surprising that 'Adrift' includes a cover version of Motörhead's 'Iron Horse/Born To Lose', which he already played with Lost Breed in the late 1980's, and a version of Savoy Brown's 'Shot In The Head'. Just as Johnny Cash, he has managed to give both tracks his own personality and the results are really cool. Then there are songs as, for example, 'Whatever' or the haunting title track that are more melancholic and strongly influenced by the good old folk blues. Here again, Wino's voice is in best form, and his guitar playing is absolutely stunning. In sum, 'Adrift' is magnificent and definitely one of the best albums of 2010. It's a reflection of who Scott 'Wino' Weinrich is, what he thinks, what he feels. This record is highly recommended for people with a good musical taste.
(KK)