WIGHT (Wight Weedy Wight) LP/CD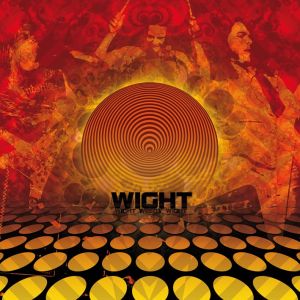 Because of the cover artwork, it's obvious that Germany's WIGHT make no secret of the fact that they have a fondness for the heavy groups of the 1970's. In doing this, it seems as if these three guys were particularly attracted to early Black Sabbath but also bands as, for example, Cactus and Sir Lord Baltimore have unfold their impact; there I am quite sure. But there is also a clear tendency towards Jimi Hendrix, which is noticeable during the first half of the album. There's a similar type of flow in the guitarwork that is also fed from a blues source. It ought, of course, also to be mentioned that WIGHT like to stay in psychoactive places whenever it suits them. Due to this combination it's obvious that 'Wight Weedy Wight' wallows like a wild boar in the early 1970's and more than once I nearly had the feeling of listening to a rare record from a lost heavy rock band. That feeling was especially strong while listening to 'Shaman Woman' that has a raw proto-metal vibe, comparable to what Sir Lord Baltimore has done.
But each story has two sides (or more) and WIGHT's "other side" is turned toward Soundgarden, which is primarily due to the vocal style of guitarist Rene Hofmann (who is also the operator of Fat&Holy Records). With a rough "wail" in his vocal range, he reminds me of a young Chris Cornell and that is not a bad thing in my book. However, there are also some instrumental parts which can be very long-winded. It would be no bad thing, in my view, if they would refine them.
Furthermore I don't get rid of the impression that the sonic gigantomania of Sons Of Otis left a permanent mark. A good example is the bulldozing opener 'Cosmic Rhythm #1', where WIGHT hitch their wagon to a star. All of this is enriched with bluesy ingredients so that they don't lose contact with the dusty road. But basically the whole album is a mostly slow-paced heavy-weight aural odyssey where the band always takes their time (sometimes a little bit too much, as as previously mentioned) to create an overpowering kaleidoscope of trippy heaviness. There is much to discover on 'Wight Weedy Wight' and despite the obvious influences, WIGHT are well on the way to carve out an interesting musical profile. They demonstrate their versatility and do not act in one single direction. 'Wight Weedy Wight' is a very promising debut and WIGHT made a very good start to 2011. I am on tenterhooks to see what happens next.
(Please note that the vinyl version will be available via Bilocation Records/Kozmik Artifactz from the beginning of August 2011)
(KK)