WARCHETYPE (Ancestral Cult Of Divinity) LP/CD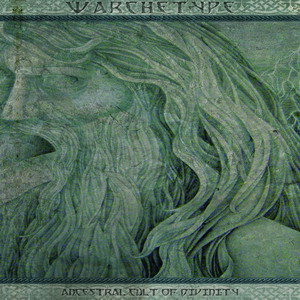 Up until now I did not have the opportunity, for whatever reason, to listen to one of WARCHETYPE's previous albums even though the Spanish band has been in existence since almost ten years. It is therefore, all the more pleasing that I received their new record from the guys of Alone Records, because it would have been a pity to miss this dark, brooding heavy album. Yet, as stated earlier, it's impossible for me to compare 'Ancestral Cult Of Divinity' with one of the earlier releases, but here we have a gigantic chunk of doom metal with mythical undertones. The album consists of five epic tracks, which however range between six and twelve minutes. The only exception in this respect is a short medieval song that reinforces the archaic character of this album.
'Ancestral Cult Of Divinity' can be described as somewhat cinematic, powered by a barbarian-like rage. This is also due to the fact that the vocals of Iban Arrieta Vargas are particularly strong and multifaceted. Also one of the positive traits is, he has the capacity to completely change the atmosphere of a song. A good example for this is the powerful opener 'Amon Wolf' that alternates between menacing death/doom metal and straightforward doom. The rhythm section of Jose Carabante Martinez (drums) and Andreu Cano (bass) is dynamic, solid, yet creating angular tangents that do more than merely support the root of Garcia's and Grau's guitar chords, lending a simultaneous sense of stability and uncontrolled chaos to the maelstrom of heaviness. It is quite clear that WARCHETYPE are huge Saint Vitus fans, but sometimes I can also detect influences from Paul Chain.
Some of the vocal lines in 'Doom Brotherhood' (only available on the CD edition) have been borrowed from Black Sabbath's 'Snowblind', but, despite that, it's a good track because WARCHETYPE have managed to give their own special twist to that memorable melody. 'Akelarre' is an anthemic mid-tempo track, packed with heavy, crushing riffs while 'Bastards', a lengthy, multi-sectioned tune, plods along at an amazingly slow pace, up to the point where the band picks speed. Yet another demonstration of just how imaginative and powerful this band is. 'Ancestral Cult Of Divinity' is not a collection of slow and weepy dirges, but rather a muscular piece of work and is therefore recommended for fans of the aforementioned bands. I also appreciate the band's efforts to achieve a varied record, and in my view, they have succeeded.
(KK)
www.myspace.com/warchetypedoombcn