WAR INJUN (Tribal Eulogy) CD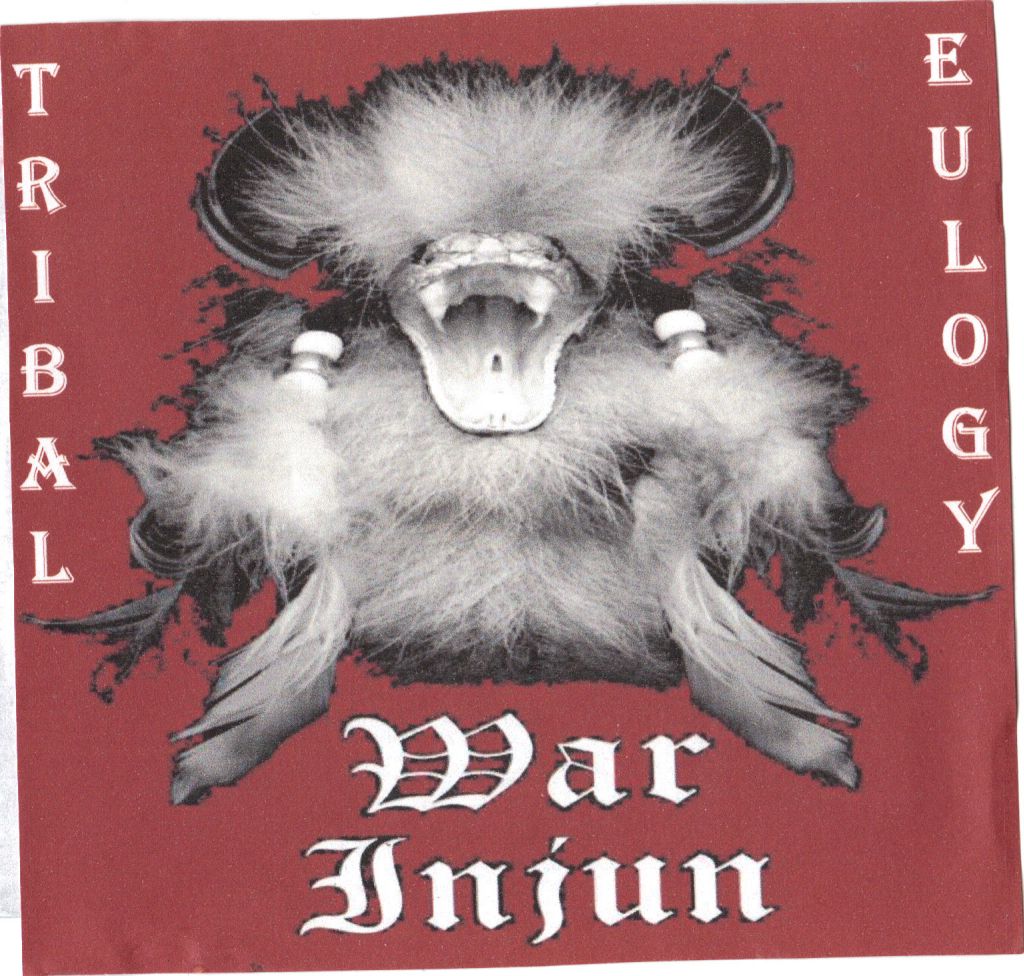 It is no secret that I'm a huge fan of the Maryland heavy rock/doom scene. The creative potential of that scene is amazing, because there are no musical restrictions. Led by bands like Asylum/Unorthodox and The Obsessed, the musicians were always open for different musical influences ranging from Rush and The Stooges to Bad Brains and Cream. Surely, Black Sabbath is also on the list, but Maryland's heavy bands have got better things to do than just to imitate Birmingham's originators of doom and gloom. This is one of the main reasons why one band doesn't sound like the other and WAR INJUN are no exception. Founded in 2003 by Internal Void vocalist J.D. Williams and Outside Truth guitarist Kenny Staubs, WAR INJUN released their first track 'A Dangerous Prayer' on Crucial Blast's brilliant 'Doom Capital' compilation in the year 2004. I immediately fall in love with that extremely heavy song that contains all the trademarks that I love so much.
J.D. Williams commanding and unique voice reminded me of Internal Void, while the brutal twin guitar attack of Kenny Staubs and Kyle VanSteinburg (Earthride) is influenced in equal parts by Sabbathian blues and Cianide's doom-driven death metal. In parallel, the rhythm section consisting of drummer JB Matson (ex-Outside Truth) and bassist Dave Morgan (Beyond Fatal, Leviathan A.D.), provides the solid backbone for WAR INJUN's killer riffage. One year later, Blood & Iron Records released an excellent split 7" with Dawnrider and, once again, WAR INJUN convinces me with their bulldozing sound. Unfortunately, after that it became quiet around the band. Finally the waiting has an end, because WAR INJUN's debut album 'Tribal Eulogy' will be released by Blood & Iron Records in fall 2010. Well, actually, it has been recorded a few years ago and I can tell you that it would be a damn shame if this monster would not have seen the light of day. Here, there are ten powerful tracks, including the previous released tracks as 'A Dangerous Prayer', 'No Worry Woman' and 'New Ink', but WAR INJUN have completely re-recorded each of them.
'Tribal Eulogy' is a monstrous and crushing affair. Pounding rhythms and buzzsaw riffs all come together for one heavy, adrenaline pumping experience. For example, 'Patience And A Shovel' is a blistering up-tempo track that combines a tough Hellhammer beat with 1970's heavy rock riffs and the result is simply overwhelming. But despite all sonic brutality, WAR INJUN manage to write catchy and soulful songs where the hooks are just as important as the riffs. Furthermore, 'Tribal Eulogy' is a varied album and it makes little sense to pick out individual tracks, because it's ear candy from start to finish. This will be another highlight in 2010 and it's definitely a must-have for fans of heavy music. Only the highest possible recommendations come for this release. By the way - I have received this CD-R from the band and I am not sure if Blood & Iron Records will use the same cover artwork so don't be puzzled.
(KK)