WALLKEEPER (Authistic Cults) MCD-R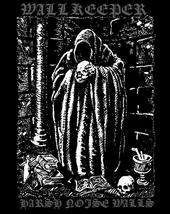 Hailing from Mülheim a.d. Ruhr, Germany, WALLKEEPER's 'Authistic Cults' is one single instrumental track with a total running time of almost fourteen minutes. Somewhere between abstract noise and heavy analogue manipulation, WALLKEEPER creates a restless hypnotic drone, that is expertly executed.
One of the most interesting aspects about this self-released song is the multi-dimensional nature of its flexing sonic muscles, ranging from a machine-like texture to waves of heavy distorted feedback. This disc is strictly limited to an edition of fifteen copies and completely sold out, but you can order other releases directly from the artist. Fans of harsh power noise should get in contact immediately.
(KK)