VOODOO BOOGIE (This Ol' Storm) LP/CD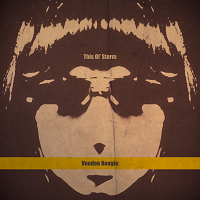 Belgium's VOODOO BOOGIE is one of those bands that draw a lot of influences from the 1960's and 1970's, but they do not only focus on rock and blues. 'This Ol' Storm', (released in 2011 by REMusic) is like a magic bag of tricks where you are not quite sure what's next. The songs range from delta blues and classic rock to soul and funk, and there is also a bit Latin and psychedelia in the mix. For this reason one might expect that VOODOO BOOGIE is a progressive outfit but this is not the case. It's more that each song shows a different facet of their sound, without changing the musical profile as a whole. I got to say I am surprised how well all the different styles have been meshed.
We've got eleven songs here that form a very cohesive whole where everything fits together seamlessly. On that occasion, it is noticeable that VOODOO BOOGIE set a high value on well-elaborated arrangements, in which power chords do not seem to be an important factor so that there's enough space for each instrument. This also includes a keyboard which sometimes sounds as a hammond organ and then as a Fender Rhodes electric piano. Thus, it is logical that a few songs awakens remembrances of The Doors, but here, too, the band manages to retain their own identity. As mentioned above, 'This Ol' World' meanders along, exploring a variety of musical avenues which pass through the land of the 1960's and 1970's. 'Takin' Me Home' is definitely one of my favourite cuts, simply because it is strongly saturated with raw delta blues. In contrast, 'Reconsider' settles more into classic rock territory and is another highlight of this record.
I do have a problem, though, with the vocals of guitarist Jan Jaspers. This is not the case in every song, but most especially when there's a change in vocal style. Whenever he pushes his voice up into the falsetto heights as for example in 'Electric Kissing' and 'Sign My Guitar', the music gets corny for my taste. Fortunately, however, Jan Jaspers mostly uses his normal well-temperatured voice that fits in beautifully with the rest of the music. But, apart from my criticism, 'This Ol' Storm' is one of the freshest albums I've heard in awhile, if for no other reason than that VOODOO BOOGIE are clearly trying to make something different instead of being a soulless imitation of Deep Purple, Grand Funk Railrod or Led Zeppelin, just to mention a few. Additionally the band delivers a tight performance and they have the talent to write memorable songs. Overall, this is an incredibly well-played, genuine, timeless rock album that will grow with each spin.
(KK)