VALIS (Dark Matter) CD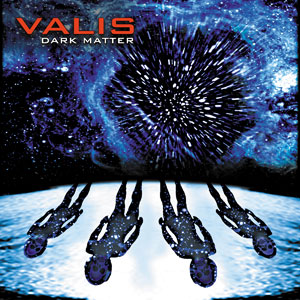 VALIS is another band that deserve more public attention than they get. Formed in the basement of Mudhoney drummer Dan Peters back in 1996, VALIS began as a casual side project for both Van Conner (ex-Screaming Trees) and Peters along with Van's brother Patrick (Kitty Kitty) and Kurt Danielson (TAD). There were the usual changes in the lineup while the Conner brothers remained the core of the band. Since then, VALIS is getting better and better with each new album. 'Dark Matter' is now their third full-length for Small Stone Records, released in 2009, and has everything a good rock album can possibly offer. Dominated by a keen sense for strong melodies and above average riffs, 'Dark Matter' is inspiring and varied. It's less psychedelic than the previous release, but bands such as Pink Floyd or The Beatles have left their footprints in a few of the songs. 70's Hardrock is also a further source of influences for VALIS without increasingly metamorphasize to a 70's revival band. It's more like that the album reflects timeless rock elegance which does not deny the last two decades.
But actually, that's no surprise if you consider that guitarist/vocalist Van Conner formed Screaming Trees in 1985. The album kicks off with the mighty 'Resurrection Sickness' that contains a huge dose of Black Sabbath. Guitarist Patrick Conner takes over the lead vocals in 'Hands of Grace' and 'Everyone Sun'. Both songs mark the most emotional moments of the album and reveal the band's fondness for old blues and folk, but I had to think of Screaming Trees because on 'Everyone Sun' Patrick Conner sounds almost like Mark Lanegan. But that's not a bad thing. 'Grapevine Earthquake' could be the result of a merging of The Beatles and Hawkwind while 'Battleship' is just as heavy as its title. And in the end there's a hidden track that is a good as the rest of the album. The album has been engineered and produced by Jack Endino, who also appears as third guitarist on 'Battleship'. Additionally, the lyrics are printed in the booklet and it is not wrong to read them, though they are printed very small. Well, 'Dark Matter' is the best VALIS album so far and if you are new to this band, here is where you should start.
(KK)