V.A. (Heavy Ripples, Vol.1) 2x7"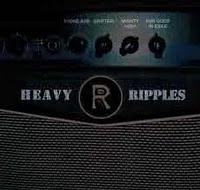 Ripple Music is back with a vinyl-only compilation and, as expected, keeps delivering quality products, not only in respect of their musical taste but also concerning the layout and packaging of the double 7" vinyl set. Well, ok, more on that later. Much more important is the music and that is very good on this compilation. It is also excellent that all tracks are previously unreleased or respectively exclusive recordings. We kick off with STONE AXE and they have prepared something special for 'Heavy Ripples'. Anyone who knows a thing or two about STONE AXE, or has at least read one of the two interviews in Cosmic Lava, might be familiar with the name Mos Generator. It's the other great band from multi-instrumentalist Tony Dallas Reed, who is also the mind behind STONE AXE. Due to the fact that I love both groups, I was pretty excited to listen to their contribution named 'Night Wolf', because it's a cover version of an old Mos Generator tune that originally appeared on 'The Vault Sessions'.
Because of Dru Brinkerhoff's vocals, the song sounds more like a STONE AXE track - which is not a bad thing in itself - , but apart from that there is no big difference to the original version. Nonetheless, it's a great performance from STONE AXE. Then comes SUN GODS IN EXILE, who also show that they didn't forget any of their skills since the release of the debut album 'Black Light, White Lines' back in 2009 via Small Stone Records. 'Over My Broken Bones' is the title of the new track and whets my appetite for more. It's a southern rock-flavoured mid-tempo rocker with additional organs. Once again, the throaty vocals of lead guitarist Adam Hitchcock are the icing on the cake. The second 7" kicks off with GRIFTER, who will soon record their debut album for Ripple Music. In the past, the band has released two promising MCD's and I was therefore interested to hear the two new songs on this compilation. 'Small Man Syndrome' does not hide the fact that GRIFTER like later Clutch and ZZ Top, but actually that is nothing new.
Compared to STONE AXE and SUN GODS IN EXILE, GRIFTER appear to be a little one-dimensional. This also applies for the second track 'Hey Ron' which once again is dominated by a typical Clutch-esque groove. To be honest, I've heard better songs from this band. MIGHTY HIGH, however, appeals much better to me. So far, this group was completely unknown to me, but I have to concede that 'Hempaphobic' is a killer track. Powered by Detroit's high energy rock of the early 1970's, MIGHTY HIGH have also injected a small dose of psychedelia to their blistering rock 'n' roll assault. All of this results in an invigoratingly smart combination that I like immediately. I therefore hope that MIGHTY HIGH will come up with a full-length album in the future. To summarize, one can say that 'Heavy Ripples' is an excellent compilation which offers the possibility to discover some great unknown bands. The packaging is also high-quality because both records are hidden in a tasteful gatefold sleeve which includes a sweet inside illustration painted by Wayne "Braino" Bjerke.
(KK)