STARVE (Wasteland) LP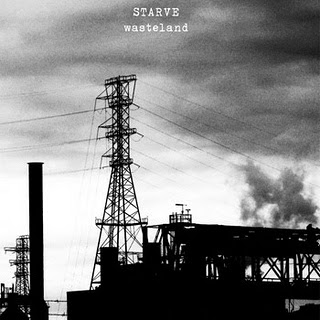 Sludge bands from the Netherlands are always welcomed here in Cosmic Lava, and so I was pleasantly surprised when I found this promo in my mailbox. STARVE didn't disappoint me, since they know how to create a black and filth-encrusted heavy sound. Their first record 'Wasteland', released by Badger Records in 2010, will satisfy all the needs of a sludge devotee. The riffs are brutal and harsh while the pace of the included ten tracks varies from agonizingly slow to fast-paced. As was to be expected, the lyrics are dealing with the darker side of our world and the abrasive vocal style manages with ease to send STARVE's bleak message through. Similar to a couple of their North American fellows, STARVE has left room for some blues and they also prefer to equip some of their tracks with a forceful groove.
Thus, it is relatively easy to find access to 'Wasteland'. Or to put it another way: compared with, for example Goatsblood, STARVE sound almost like a hardrock band. The comparison is of course not exact but it helps to point out here that 'Wasteland' is a catchy affair. Apropos blues: for me one of the highlights of this record is the genuine adaptation of Billie Holiday's 'Strange Fruit'. Her song condemned racism in the USA, particularly the lynching of Black Americans in the South. And even though it is almost impossible to detect the original tune, this is a great dedication to Billie Holiday. Furthermore, it is more original than just picking out another tune from Grief or EyeHateGod, isn't it? Those keen on sludge with much doom will also be in their element, because STARVE do not hide their love for early Black Sabbath or Electric Wizard. There is a massive sound on this one. It's a pretty heavy album of course and not much light is getting through this one. STARVE has had a good start and I will certainly keep an eye on this band.
(KK)
www.myspace.com/starvemotherfuckers