SHEPHERD (Laments) CD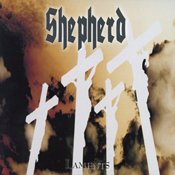 Finally here it is, the debut of German doomsters SHEPHERD. I've written very some positive words about the self-titled demo three-tracker but "Laments" simply blows it away. The three songs of the demo are also included here, but the production is stronger and heavier so it's really a pleasure to listen to this tracks again. But the whole album is very powerful and SHEPHERD have created a morbid and creepy atmosphere. It's a honest and soulful musical worship to all the legendary ultra-heavy bands as Saint Vitus, Count Raven, Electric Wizard, The Obsessed and so on. You know, the usual suspects. One of SHEPHERDs trademarks is the unique and psychotic-sounding voice of Andreas Kohl and it's hard to compare him to any other vocalist. The riffs aren't that original, but that doesn't matter, because the whole result is important and that is very convincing, just to speak for myself.
In opposite to German Doom bands as MoD or the total overrated Dawn Of Winter, SHEPHERD are less Metal-influenced and more 70's like. Just listen to tracks as the heavy downtuned "Suburban Boogie" or the sick-sounding "Sleepless". The production isn't too clean, and it emphasizes the heavy riffs. Most of the included seven songs are long and slow, but not boring for a minute because this four guys have intergrated inspiring ideas. There's still enough groove in it , some mid-tempo parts or a few acoustic parts as in eleven minutes long "The Coldest Day/The Story of the Drinker", but it's definitley no Doom-laden Heavy Rock album. Just pure Doom, with a very very small Sludge-influence. "Lament" is a must-have for every doomster and together with bands as Voodoo Shock or Spancer SHEPHERD belong to the finest German bands. At least I like to mention the tasteful arranged booklet, with its impressive atmospheric pictures. "Laments" has been released on A. Kohl's label Exile On Mainstream Records, from where you can order it, too.
(KK)