ROMERO (Solitaire) 7"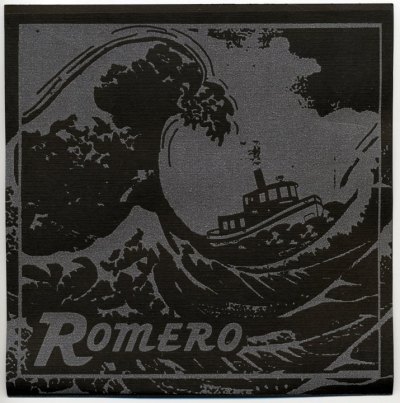 It is always a pleasure to receive a vinyl copy. This time, ROMERO were kind enough to send me their new 7" which has been released by Triceratrax Records in 2010. The first thing you notice is the beautiful hand screened cover with silver textured ink printed on black cardboard. That looks really promising. Fortunately, both songs are as good or even better than the packaging. Side A kicks off with 'Solitaire' that combines soaring almost anthemic vocals with a slightly downtuned smooth sonic attack. It is clear that ROMERO love to play heavy riffs, but they are embedded in carefully-crafted textures. They are not your next average doom or sludge band and you can feel immediately that ROMERO have something special to offer.
'El Sentido Morboso' occupies the flipside, and reveals a more melodic side of their heavy and crunchy sound. Especially the unobtrusive vocal style provides the song with a nice pop appeal and forms a strong contrast to the massive wall of sound. The guitar is crispy yet shred a special heaviness trail along the song structures. Even in terms of production this 7" is flawless. The overall sound is warm and earthy but at the same time very differentiated and clear without being to polished. On the whole, ROMERO is diverse and unpredictable. If you are looking for something unique, it's time to check out the refreshing heavy sound of this U.S. band. I need more.
(KK)