LO-PAN (Sasquanaut) CD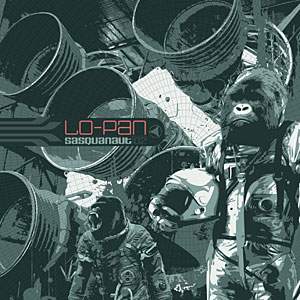 Here, we have the remastered and remixed version of LO-PAN's second album, which was originally released by Nice Life Records in 2009. Small Stone Records is responsible for this re-issue and I am surprised that they did not sign the band right from the start, because LO-PAN meets the requirements for this excellent label. But anyway, now they have found an eminently suitable home for their emotional heavy sound. LO-PAN's blend of hardened riffs, musical talent and Jeff Martin's sensitive yet powerful vocal style creates a sound that is somber and complex, groove-laden and riff-based. The way that they weave and twist the guitar melodies, drums, expressive vocals, and underlying bass rhythm is beyond me.
Brian Fristoe's virtuous guitar playing is diverse and his crispy tone is crushingly heavy. His playing has a metal feel with some truly creative and beautiful touches. Jeff Martin's voice is at one minute an almighty roar, followed by a near whispered hush, yet all the while retaining a fear, mistrust and vulnerability that only adds to the overall power of the sound. But don't get me wrong, none of the musicians stand out over one another, as all of them move in one seething mass, like a machine pumping out adrenaline rushing tunes. If necessary, a bit of psychedelic is woven into the song structures, but this does not lead to a 1960's/1970's revival orgy. In my opinion, LO-PAN are deeply rooted in the here and now without ignoring the history of heavy rock and rock 'n' roll.
'Sasquanaut' makes a clear and concise musical statement from start to finish and it is seething with tension. There are plenty of different shades and textures here so that this album never becomes repetitive or stale. All in all, 'Sasquanaut' is crisply produced, thoughtful, and a loud album. Do not expect to get into this album after one listen. It takes time, but I think it really is worth our time. So go and buy this shimmering beauty! (KK)