JACK BRUCE & ROBIN TROWER (Seven Moons) CD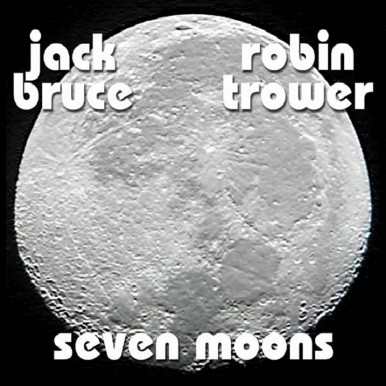 Originally released in 2008 via Floating World Records, 'Seven Moons' is not the first collaboration between these two influential musicians and hopefully not the last. By the way, I hope there is no need to introduce Jack Bruce and Robin Trower to you. If so, here's a short overview. Bassist Jack Bruce has written musical history with Cream while guitarist Robin Trower has gained its reputation with Procol Harum. Later, he refined Hendrix' guitar style, creating his very own sound and playing technique. The line-up also includes drummer Gary Husband who has been playing with Jack Bruce for years now. All in all, a classical power trio line-up.
Consequently, the music is classic rock at its finest. The good old blues is omnipresent, but one also finds psychedelic leanings and a few excursions into funk and soul. One feels reminded of Cream and Jimi Hendrix, but fortunately 'Seven Moons' is more than just a lukewarm rehash of the glorious past. It is rather that a classic, timeless feel radiates through each of the eleven tracks which ensures that the album is like a link between the 1960's and the present times. There are plenty of highlights on 'Seven Moons' what makes it hard to pick out only individual songs - but I will try. 'Lives Of Clay' is a riveting, funk-infected hard rocker where the distinctive bluesy voice of Jack Bruce gives the listener that old Cream feeling, even though this is true for the whole album. 'Bad Case Of Celebrity' is pure unadulterated blues rock, which once again is refined with Robin Trower's soulful guitar performance. He has a languid and introspective undertone with a lot of emotional depth. For those who like to call him a Hendrix wannabe, ignore them. Maybe they're talking about Frank Marino or Randy Hansen.
Another great song is 'Distant Places Of The Heart' which hypnotizes with a THC-filled atmosphere whereas 'Perfect Place' gives the listener the next dose of bluesy, hard rocking funk. The groove is irresistible and the band plays tight and punchy. Again, it is noticeable that creativity is written in capital letters on 'Seven Moons'. Jack Bruce and Robin Trower never follow the same patterns, yet nevertheless it is a very coherent album. In addition, the sound and production are excellent and there is not one flaw. In my opinion this is an excellent album which shows that Bruce and Trower should still not be put on the scrap heap. Thanks to Repertoire Records for this re-release that comes in a digipak packaging including an extensive booklet with very interesting liner notes written by Chris Welch. Overall, an album that can't be forgotten once heard.
(KK)