Victor Griffin's IN-GRAVED (s/t) LP/CD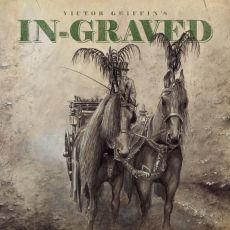 Instead of resting on his laurels, Victor Griffin adds another crowning achievement to his impressive career that started more than 30 years ago with Death Row. IN-GRAVED is his newest band and this self-titled debut insistently demonstrates that Victor Griffin did not run out of ideas by a long way. He is supported in this by drummer Pete Campbell, who was also in Place Of Skulls which indicates that the chemistry between them both was immediate. Fortunately, I was able to see this for myself when Place Of Skulls did their first European tour in 2004. The big surprise, though, is that several well-known bassists appear on this record including Guy Pinhas, Greg Turley, Ron Holzner, Dan Livley, Marty Swaney as well as Victor's wife Anne Griffin. In my opinion it's a very exciting list of musicians, and I was particularly glad that ex-Death Row / Pentagram / The Hounds Of Hasselvander bass player Marty Swaney participated in the recording sessions.
The whole recording line-up is rounded off by keyboardist Jeff 'Oly' Olson (and Mike Puleo who can be heard on 3 tracks), who adds an extra dose of 1970s flair to 5 songs with the aid of heavy organ sounds. But IN-GRAVED do not attempt to reactivate old times. Fortunately. Already after the first seconds of the powerful opening track 'Digital Critic' it becomes clear that this is Victor Griffin through and through. First, there is his massive yet soulful guitar sound which is simply unmistakable. Naturally, this also applies to his riffs and solos, but I guess everyone who knows Death Row / Pentagram as well as Place Of Skulls is fully aware of that fact. Added to this is his charismatic voice which is on the same level as his guitarwork.
But of course a band needs good songs because otherwise none of this is of any use. But here too IN-GRAVED convince all along the line. The included 8 songs are dynamic and intense, sometimes a bit more complex without losing their catchiness. This album creates an emotional atmosphere that is perfectly balanced between light and darkness. Especially the re-recorded version of 'Never Surrender' provides the listener with an uplifting feel good vibe and it's a perfect end for this record.
However, 'Love Song For The Dying' is considerably darker and more introspective, whereas 'Fading Flower' reveals the bluesier side of IN-GRAVED. It was a great idea to include a new version of 'Late For An Early Grave', because I always thought that this song suits Victor very well, just only because of the personal lyrics. Among the 8 tracks, there's also a genuine cover version of Jethro Tull's 'Teacher'. It is, of course, obvious that this song sounds now like a self-penned composition which is always a good sign. Overall, this is a really great album and the first highlight for me in 2013. Now I'm looking forward to the IN-GRAVED tour.
(KK)
www.facebook.com/INGRAVEDoffical