IRON VOID (Spell Of Ruin) CD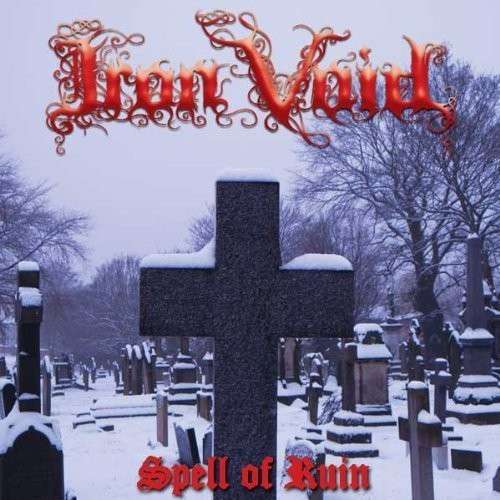 A simple glance on the cover artwork of 'Spell Of Ruin' suffices to know which style of music UK's IRON VOID prefer, namely doom metal. In doing this, they are oriented to the classic bands such as Saint Vitus, early Internal Void and Penance. IRON VOID's heavy style is rounded off by a healthy dose of classic British heavy metal, and even the good old rock 'n' roll doesn't come up short. But perhaps some of you already know 'Spell Of Ruin', because it was originally released as a limited CD-R in 2010. Needless to say, it's no longer available but fortunately Doomanoid Records (the record label of IRON VOID guitarist/vocalist Steve Wilson) has been kind enough to re-release 'Spell Of Ruin', including two bonus tracks and a full colour 8-page booklet.
Of course, IRON VOID was not formed to change the world of doom metal but instead they carry the torch of tradition and I think, they stand up very well. This is mainly because IRON VOID are capable of writing good songs which are enhanced by a lot of powerful riffs. 'Final Resting Place' serves as an example, in this case, of how effective they can be when everything runs smoothly. A further advantage is that IRON VOID do not mind changing the tempo in order to provide the listener with more variety. So, if you're looking for ultra-cliché and foreseeable doom metal at snail's pace, you won't find it here. Most of the included six songs are mid-tempo and there's definitely no lack of dynamism. Toss in the soulful, throaty vocals, and we have a winning combination here. But 'Conflict Inside' shows that the singer also uses a clean vocal style, which leads to a stronger epic feel. To be honest, at times it is a bit too pathetic for my taste, but there are also some more aggressive parts which strike a reasonable balance.
'Suicide Sorcerer' is another doomy bow to early 1980's heavy metal, again with clean vocals with which it again becomes clear that IRON VOID might be of interest for the average headbanger and not only for the doom metal-devotee. The last track 'Drowning In Eternity' is previously unreleased and knows to surprise with a cool up-tempo mid-section that pays tribute to early Black Sabbath. All in all, IRON VOID leaves me with a very good impression and I hope that they will attract more attention in the future. Moreover 'Spell Of Ruin' deserves a place in any good doom metal collection. All that remains now is to look forward to 2013, because the band will enter the studio to record their first full-length next year.
(KK)