IRON MAN (Submission) MCD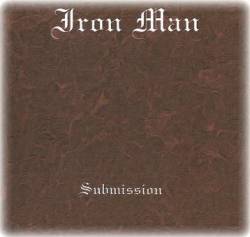 The roots of Maryland's mighty IRON MAN go back to the late 70's, when guitarist Alfred Morris III formed Force, but the group never released anything official. Then in 1987, Alfred Morris III decided to start a Black Sabbath tribute band, and a name like IRON MAN couldn't have been more appropriate for a band like this. But they started to write own material and in the early and mid-90's, they released two amazing ultra-heavy albums on Hellhound Records. Meanwhile both albums, entitled 'Black Knight' and 'The Passage' are classics and it's good to know, that they have been re-released by Japanese label Leaf Hound Records.
A few years later, IRON MAN signed with John Perez' label Brainticket Records and the result of this deal was 'Generation Void', which wasn't as good as the two previous ones, but still good enough to strengthen their cult status. IRON MAN made plans for a second album for Brainticket, which should've been entitled 'Afterlife', but nothing happens. Now it's 2007 and the group returns with a new self-financed and self-released five song MCD, which contains some of the best cuts the band ever recorded. For all you fans of IRON MAN it's no surprise, that 'Submission' has been recorded with a complete new line-up, because that was never stable thing during the band's existence. Alfred Morris III gathered always excellent musicians around him, although he never had a lucky hand with the choice of the vocalists. Rob Levey, who was the singer at 'Black Knight', was not really good, although his unique style can be very fascinating.
Vocalist Dan Michalak, who can be heard at 'The Passage' and 'Generation Void' was more a classic Heavy Metal singer and his style fits much better to the group, but he had the tendency in exaggeration. The new man is Joe Donnelly and his performance is damn good, and maybe he's the best singer, the band ever had. On drums we find Dex Dexter and on bass it's Louis Strachan , another veteran of the Maryland Doom scene, who is still in my best remembrance for his brilliant playing in Life Beyond. 'Burn the Sky' is the thunderous opener of 'Submission', and direct from the first heavy chord it's crystal clear that only Alfred Morris owns this very special crushing guitar tone. Yes, of course, it's still very Iommi-esque, but firstly, Alfred Morris III never tried to hide his main influence, and secondly, he carved out his own style and sound during the past 30 years. So, please, shut up and sit down! The next killer anthem is 'Blind-Sighted Forward Spiral', and this up-tempo track will stuck in your unwashed ears for weeks. What for a hookline! 'Run From the Light' is the third heavy roller here, and only a deaf person won't notice the magic within this track.
The fourth song, entitled 'Crazy Fingers' is a perfect instrumental interlude, before IRON MAN kicks the listener in the ass with the last song 'Among the Filth and Slime'. Once again, the group tighten the pace with an irresistible shuffle. What for an amazing groove! As if all this wasn't brilliant enough, the band recorded 'Submission' at Chris Kozlowski's Polar Bear Lair Studios, and every longtime fan of all the heavy Maryland bands knows, that his production is just awesome. This MCD is a brilliant return, and it does not only prove, that IRON MAN are still one of the heaviest Doom Metal bands around, but also that the new line-up is one of the best in the band's history. Here we have musical ringleaders, and now I have only two wishes: please, come over to Germany and don't forget to record a new album before! IRON MAN rules supreme!
(KK)