INTERNAL VOID (Unearthed) CD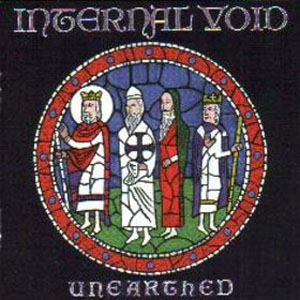 Unbelieveable!!! Another one of the great old bands returns. After eight long years the second record from one of Marylands finest and heaviest doom-laden Heavyrock bands.Two songs ("Nothing But Misery" / "Internal Void") appeared on the "What The Hell!" compilation on the German HELLHOUND label in 1991. One year later INTERNAL VOID released the first full-length album "Standing On The Sun", again on the same label. Looking back on it today, it's still a timeless , high recommandable record and INTERNAL VOID have a good reputation for the debut, not only in the Doom-scene. But then, the band disappeared and it was very silent. Some years have passed and the band worked again on new songs.
There was a change in the line-up and instead of Eric, there's Ron Kalimon on drums, who played former for the awesome UNORTHODOX. The result of the last years is "Unearthed" and it´s, no doubt about it, one of the strongest and best Doom / Heavyrock records, I´ve listen to this year. There are eleven tracks and you find no weak song .The band plays on a high musical level and the whole album is full of interesting ideas,an inventive songwriting and really enjoyable to listen to it.The band has all the good old trademarks...the amazing rough and soulful vocals from J.D.Williams...the powerful and brilliant guitarwork and the dynamic and precise rhythm-section, but the band had done a step forward.
Like in the past, INTERNAL VOID have a lot of different elements in their music (which ranges from the hardest 70's Rock to Blues and Punk,like most of the Maryland bands) and they have enough skills to work out an own original profile. I think, they have added a slight Psychedelic touch to their songs. It´s no trendy heavy desert stuff, just authentic and honest doom-laden Heavyrock! "Unearthed" was recorded again by Chris Kozlowski, who shows again how to handle the heaviest tunes. In some moments the production is comparable to SPIRIT CARAVAN´s "Jug Fulla Sun" album. Great job done! For all people, who are seeing themselves as serious Doom-lovers a must-have, but I strongly recommend "Unearthed" to everyone who loves very heavy-groovin´ Rock!!! At least I want to thank Greg and SOUTHERN LORD for releasing this mind-blowing disc. The official released date will be early October 2000. Order "Unearthed" from the SOUTHERN LORD website, NOW!
(KK)